Fighting a battle for Prageeth 
31 January 2020
A decade has passed since cartoonist- journalist Prageeth Ekneligoda disappeared. Ekneligoda was reported missing on 24 January 2010, two days before the presidential polls that year.
In memory of his years of struggle for truth and justice, Ekneligoda's wife Sandhya and their two sons Sanjaya and Harith held an exhibition "In Remembrance of Prageeth'' at the Dr N.M. Perera Centre Borella on 24 January. The exhibition showcased artwork by Prageeth Ekneligoda as well as his sons. Ekneligoda's art highlights resistance to injustice and raises a voice for the truth.  It also demonstrates the collective memory of the struggle he underwent as a writer and cartoonist.
Speaking to Daily Mirror, Sandhya Ekneligoda said that their sons' drawings reflected the struggle and experiences they had undergone during the ten years as children when they were in search of a father with hope. "I'm still struggling for justice. So are my sons, for what happened to Prageeth," she said. Sandhya was critical of the previous and current Governments for their inaction and indifference towards Prageeth's case. She also pointed out that the Government has failed to act responsibly and immediately regarding Prageeth's disappearance.
Speaking to Daily Mirror about his father's disappearance, Sanjaya said that the Government had a responsibility towards the people and the Constitution.  He noted that there had been progress in the investigations into the Ekneligoda case.
"My father was unlawfully abducted and detained in a camp in Giritale. He was taken to Akkaraipattu thereafter," he said. He added that this was clear from the evidence gathered by CID officers during the previous Government.
Speaking to the Daily Mirror, German Ambassador to Sri Lanka, Jörn Rohde said it was important to remember patriotic Sri Lankans who wanted the best for their country.
"The family needs to know what happened," he said, adding that even if the person had perished, the most important thing was to know why and where it had happened.
"A world where people disappear"
A discussion titled"A world where people disappear" was also held at the same premises that evening. Speaker Karu Jayasuriya, former Health Minister Rajitha Senaratha and Wickramabahu Karunaratne from Nava Sama Samaja Party were present at the occasion.
Ven Dr Kahatapitiye Pannasaara Thera appreciated Ekneligoda's patriotic views and his service to society as a cartoonist-journalist. The monk stressed that one should not promote ethnic or racial divisions as such actions could give rise to tensions.  "Pradeep Ekneligoda was a philosopher who struggled to build a society with humanity. We are still not free from the clutches of slavery. We have not used our free will appropriately," the Thera said. He urged the public and journalists to come together and sideline all selfish ends to march forward as one and eventually be free of slavery.
Sandhya in her speech thanked all those who were a part and parcel of this difficult journey, spanning a decade. She also stressed that anyone could disappear or be imprisoned at any time, similar to what happened to her husband. "My sons, through their artwork show that their father Prageeth, is still alive," she affirmed.
Renowned author Sujith Akkarawatte also shared his perspectives on Ekneligoda's disappearance. He noted the participants at the discussion, who came from different walks of life and bore different ideologies, clearly indicated that Ekneligoda associated with people from different social strata. He stressed that Ekneligoda was someone who never sought publicity and power.
"He was a person of far-sightedness," Akkarawatta said, adding that Ekneligoda represented left-wing ideologies and identified its gaps and revolutionised it. He even identified the gaps in liberalism. "As a humanist, he tried to fill the gaps in existing ideologies and tried to make a change. He also questioned and challenged those who cling to extremist ideas," he added. Akkarawatte said Ekneligoda had always tried to defeat dictatorship through his art and writings and bring forth democracy. "For that purpose, he sacrificed himself," Akkarawatta said.
Human rights activist Ruki Fernando shared his views on 'the freedom to express'. Referring to an incident that occurred in Batticaloa on January 23 where seven journalists had received death threats, he said that no protection had been given to them as the first step. Instead, they had been asked to make statements as if an investigation was to be carried out against them. "Today there is a tendency when the victimised lodge a complaint, they are unnecessarily questioned or examined," he stressed.
Speaking on killings and disappearances of journalists, Fernando recalled the death of Subramaniyam Sugirtharajan who was shot dead at Trincomalee on January 24,  2006. Sugirtharajan was popularly known as SSR and was a provincial correspondent for Tamil daily Sudar Oli.  Fernando said less attention was paid to Sugirtharajan's killing both locally and internationally. "According to media reports there had been 30 incidents where freedom of expression was challenged, but went unrecorded, without receiving due attention," he said.  He added that due attention should be paid to instances where freedom of expression is threatened.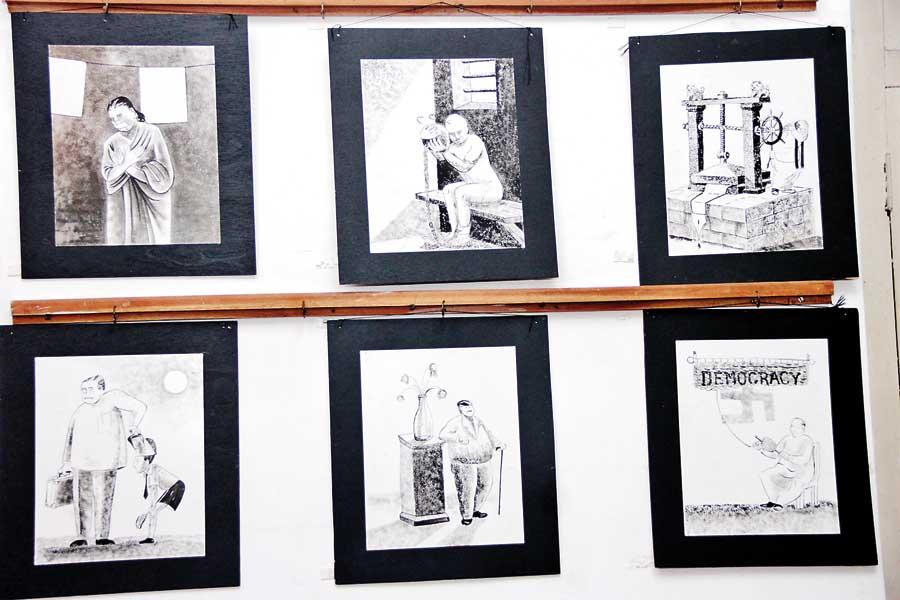 Drawings by Prageeth Ekneligoda
Tamil media executive member, A. Nixon in his speech said though the Office on Missing Persons was established in 2016, there were relatives of the disappeared who did not want to lodge a complaint there since their trust in the office had been minimal. He added that though the Government had offered the close relatives of the disappeared Rs. 6000 per month, the family members had not seen this as a commendable move as they were only worried about the whereabouts of their missing loved ones.
"Human rights activists in Colombo have stressed the need to increase the sum of compensation given to relatives of the missing persons. But the relatives are solely interested in finding out what has really happened to their loved ones who disappeared. They are still struggling in search of the truth," Nixon added.
Ten years on, the struggle of Sandhya and her sons for truth and justice continues. There are more stories of disappearances that are not known to many. However, for both known and unknown stories, justice is the only remedy to help heal the emotional and psychological wounds of the relatives of those who disappeared.
Pix by Waruna Wanniarachchi  and Pradeep Dilrukshana

'our sons' drawings reflected the struggle and experiences they had undergone during the ten years as children when they were in search of a father with hope. I'm still struggling for justice. So are my sons, for what happened to Prageeth'

http://www.dailymirror.lk/news-features/Fighting-a-battle-for-Prageeth/131-182255