9 years today – A massacre in Mullivaikkal – Part 1
 17 May 2018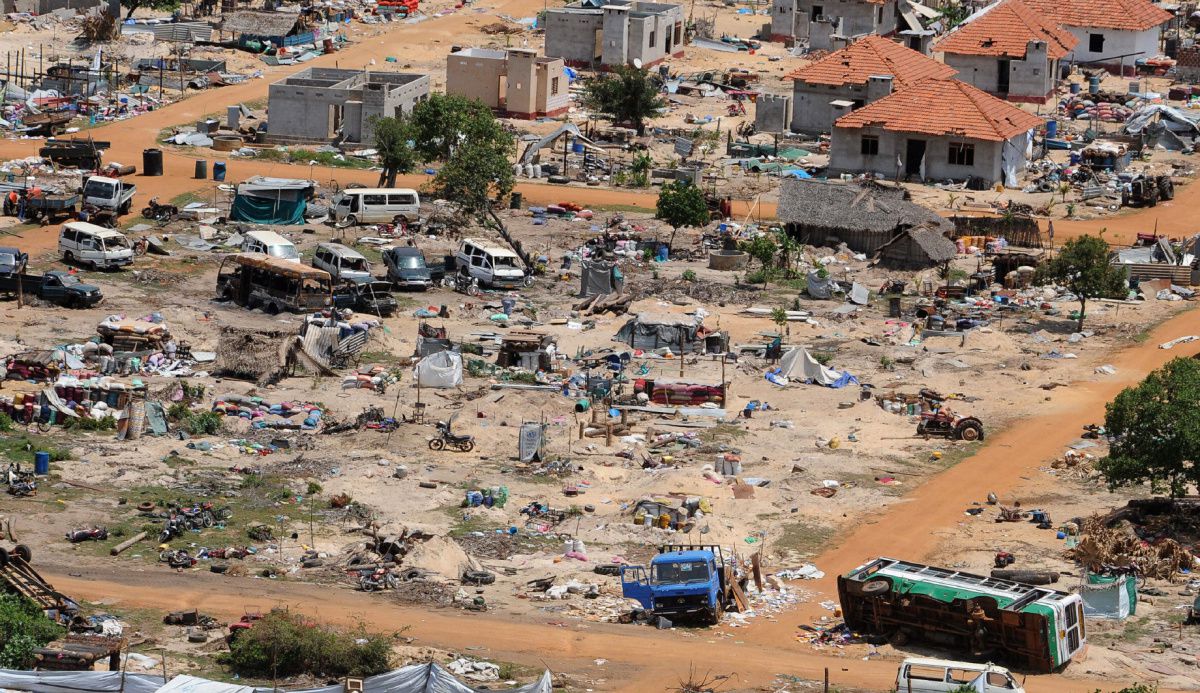 Photograph: A scene of devastation in Mullivaikkal pictured days after the Sri Lankan military had overrun the area.
Marking 9 years since the Sri Lankan military onslaught that massacred tens of thousands of Tamils, we revisit the final days leading up to the 18th of May 2009 – a date remembered around the world as 'Tamil Genocide Day'.  The total number of Tamil civilians killed during the final months is widely contested. After providing an initial death toll of 40,000, the UN found evidence suggesting that 70,000 were killed. Local census records indicate that at least 146,679 people are unaccounted for and presumed to have been killed during the Sri Lankan military offensive.
18th May 2009
A massacre in Mullivaikkal
The Sri Lankan military overruns the last remaining 'No Fire Zone'.
TamilNet receives a final phone call before it loses all communication with its correspondents in the field.
A US State Department report says there are "accounts from witnesses in the NFZ of SLA soldiers throwing grenades into several civilian bunkers".
"Some civilians also reported seeing an army truck running over injured people lying on the road. Later in the day, the SLA brought in earth-moving equipment to bury the bodies that had been lying outside for two days or more. Civilians reported seeing among the corpses injured people who were asking for help, and believed that the SLA did not always attempt to separate the injured and the dying from those who had died."
The OISL says,
"Multiple witnesses described scenes of devastation, with hundreds of bodies of people killed by shelling scattered across areas within the NFZs. Entire families had been killed as bombs landed in bunkers they were sheltering in. Witnesses talked of having to leave dead family members behind as they were further displaced by the shelling. Many witnesses were profoundly traumatized by their experiences and memories of the shelling and the devastation they witnessed."
A Sri Lankan soldier described to Channel 4 the grotesque humanitarian violations committed during the final days of the conflict. See a clip of his testimony below.
The UN Panel of Experts report says,
"The dead were strewn everywhere; the wounded lay along the roadsides, begging for help from those still able to walk, but often not receiving it. Some had to be torn away from the bodies of their loved ones left behind. The smell of the dead and dying was overwhelming."
Executing the surrendered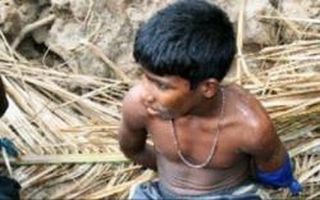 Hundreds of other LTTE cadres, their families and other Tamils civilians who surrendered to the Sri Lankan military were executed. Others have been forcibly disappeared.
This week the ITJP released the names of at least 293 people who were seen surrendering to the Sri Lankan military and have seen been disappeared. Among those is Father Joseph, who was last seen boarding a Sri Lankan military bus with several LTTE cadres whose surrender he had facilitated.
The OISL states,
"There are also reasonable grounds to believe that a number of LTTE cadres, such as those belonging to the political wing, and other individuals not or no longer taking direct part in hostilities, including children, were also extrajudicially executed.

"Based on this forensic analysis of photographic as well as video material, witness testimonies and open sources, OISL concludes that there are reasonable grounds to believe that LTTE senior political wing leaders Balasingham Nadesan and Seevaratnam Puleedevan as well as Nadesan's wife Vineetha Nadesan may have been executed by the security forces sometime after 06:00 on 18 May."
See more from the ITJP on this particular case – dubbed the White Flag incident – here.
Amongst the other emblematic cases are those of LTTE leader Colonel Ramesh who was filmed in Sri Lankan custody, being interrogated by soldiers. Later photographs show he was shot dead. Balachandran Prabhakaran, the 12-year-old son of the LTTE leader Veluppillai Prabhakaran, was also photographed in military custody and then shot dead, as well as Tamil TV presenter Isaipriya.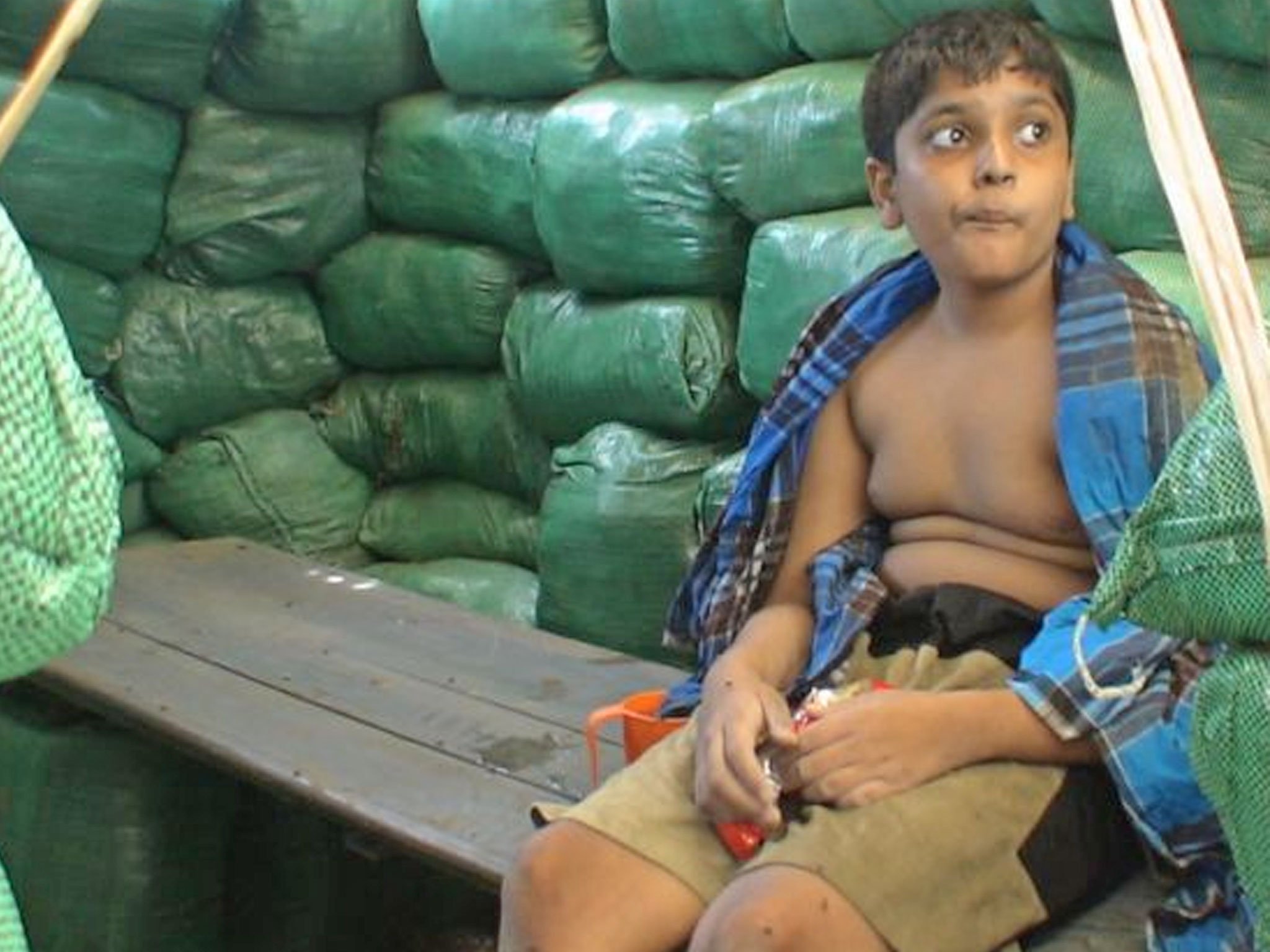 Photograph: Balachandran Prabhakaran pictured in Sri Lankan military custody. Later photographs show him dead, with several bullet wounds in his chest.
Several videos have since emerged, captured by Sri Lankan soldiers on their mobile phones, as they execute naked and tied up Tamils. Some laugh as they shoot the blindfolded Tamils in the head.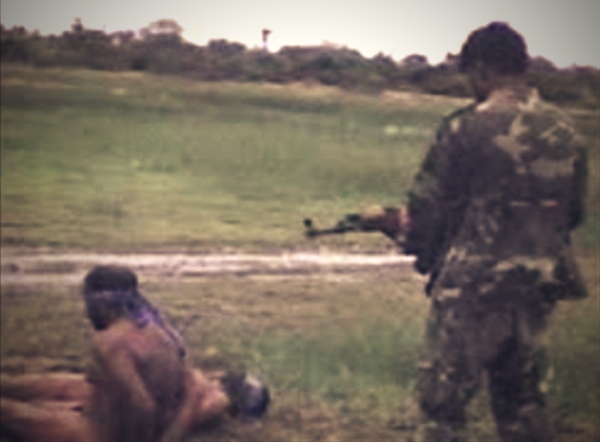 Rape and sexual violence
The UN Panel of Experts found,
"Rape and sexual violence against Tamil women during the final stages of the armed conflict and, in its aftermath, are greatly under-reported… Nonetheless, there are many indirect accounts reported by women of sexual violence and rape by members of Government forces and their Tamil-surrogate forces, during and in the aftermath of the final phases of the armed conflict."

"Many photos and video footage, in particular the footage provided by Channel 4, depict dead female cadre. In these, women are repeatedly shown naked or with underwear withdrawn to expose breasts and genitalia. The Channel 4 images, with accompanying commentary in Sinhala by SLA soldiers, raise a strong inference that rape or sexual violence may have occurred, either prior to or after execution."
The OISL concluded,
"One of the most disturbing findings of the OISL investigation has been the extent to which sexual violence was committed, often extremely brutally, by the Sri Lanka security forces, with men as likely to be victims as women. The prevalence of rape, often on repeated occasions, was particularly shocking. OISL did not find any information to suggest that the LTTE was responsible for sexual violence, and different sources indicated that anyone found responsible for sexual abuse or violence risked harsh punishment by the LTTE."

"Several witnesses spoke of women being taken away "towards the jungle" by soldiers, allegedly for sexual abuse, as they crossed over into Government-controlled territory. Some said that they then heard screaming. One witness, for example, described a female cadre being taken behind a sentry post by two soldiers, and was visibly distraught and crying when brought back some 20 minutes later. In another case, the source recounted seeing soldiers dragging young women into the bushes and hearing screams. He said that he could also hear gunshots coming from the area. Another witness stated that she heard four or five "voices of girls screaming in the bushes" and calling to be saved as she approached a sentry point."
Human Rights Watch reported one woman's experience.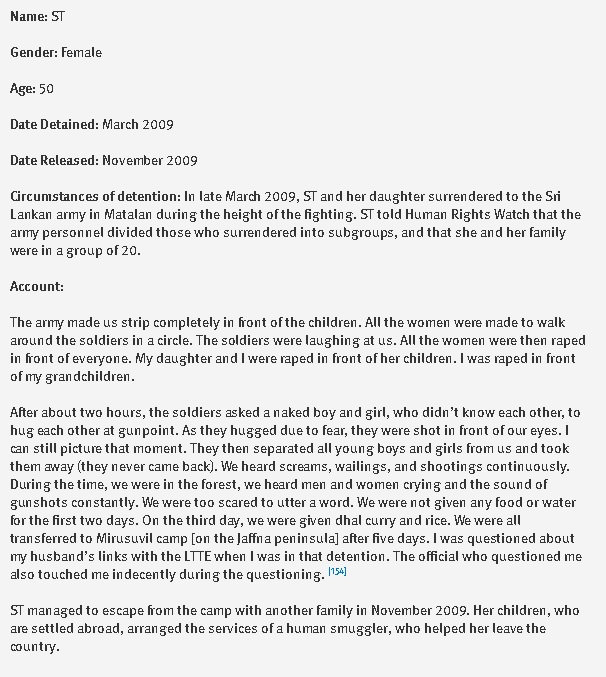 300,000 in camps
At the time, it was thought to be the largest displacement camp in the world. Many Tamils would remain there for years.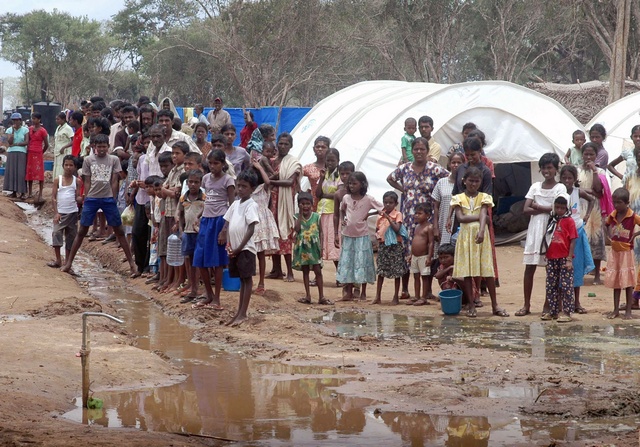 Arunachalam Camp, Menik Farm 19 Aug 2009​
A cover-up
The OISL says it is "concerned by serious allegations that SLA may have destroyed evidence after the end of the conflict, including by digging up and burning bodies that had been buried in the conflict zone".
"In addition to those who died in hospitals, multiple witness testimonies recount burying civilian family members or seeing others bury individuals killed in the shelling before they hurriedly fled. There has been no systematic recording of the exhumation of graves since the war. Extensive forensic anthropological expertise will be required to examine those bodies that were buried and may be exhumed as part of investigations. "
The OISL concluded,
"The patterns of commission of gross human rights violations and serious violations of international humanitarian law, the indications of their systematic nature, combined with the widespread character of the attacks all point to the possible perpetration of international crimes. These allegations must be promptly, thoroughly and independently investigated and those responsible should be brought to justice."
17th May 2009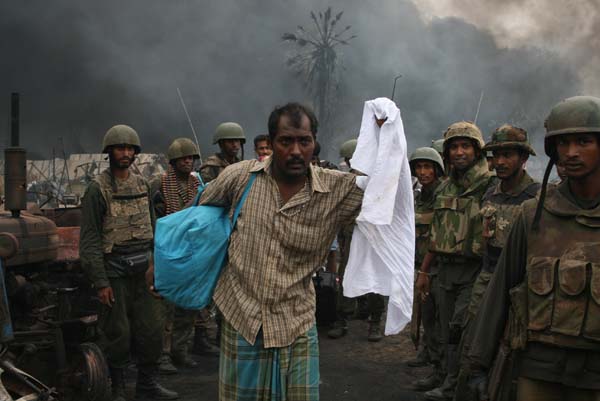 Photograph: In this image released by the military, a Tamil man waves a white cloth in the air as he is surrounded by Sri Lankan soldiers in Mullivaikkal on May 17th 2009.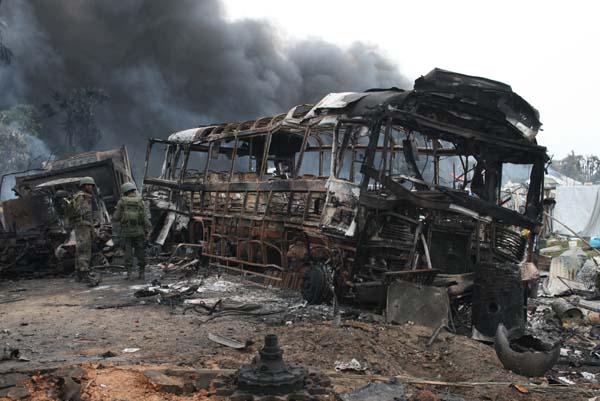 3,000 dead and 25,000 critically injured
The Commander of the LTTE's Sea Tigers Colonel Soosai sends out a message to journalists from Mullivaikkal. As he speaks, artillery shells can be heard landing in the background.
Translated extracts reproduced below.
"The last hours are happening, the last hours are happening… a lot of people are dying, heavy fighting is going on. A lot of people are dying… in all areas, corpses are heaping up… the people are not being allowed to leave".

"Yesterday, the day before yesterday, through the ICRC in Geneva, we got in direct contact with Geneva, through KP Padmanathan, we contacted Geneva, to ask whether they could, through Irattavaikkal, Mullaithivu Vadduvaakal or through Irattavaikkal, we will let the wounded 25,000 people leave for them to take. We asked them to take the 25,000 people…. But… 25,000.. over 25,000 are in here being wounded and dying… fighting is ongoing – artillery and so on are being used heavily… In the 2km area from all sides they are firing artillery. Civilians are dying."

"Until the end we won't cower… but our people are dying. The international community has turned a blind eye… we have been asking to evacuate the 25,000 people. Even now, without delaying further… but now 20-25,000 are wounded… They are in the bunkers which have been surrounded."
It was to be his last public message.
Listen below.
Over 3,000 people have been killed over the last 24 hours, with another 25,000 critically injured.
LTTE 'remove last weak excuse… we have decided to silence our guns'
The LTTE's then head of International Diplomatic Relations issued a statement. Extracts below.
"Despite our plea to the world to save the thousands of people in Vanni from the clutches of death, the silence of the international community has only encouraged the Sri Lankan military to execute the war to its bitter end. In the past 24 hours, over 3000 civilians lie dead on the streets while another 25,000 are critically injured with no medical attention. To save the lives of our people is the need of the hour."

"It is our people who are dying now from bombs, shells, illness and hunger. We cannot permit any more harm to befall them. We remain with one last choice – to remove the last weak excuse of the enemy for killing our people. We have decided to silence our guns."
'As many as 100,000 civilians trapped'
Sri Lanka's Defence Secretary Gotabhaya Rajapaksa announced publicly on May 17 that there were no civilians remaining in the conflict zone.
However, a leaked US embassy cable reveals the Americans were told by current TNPF leader Gajen Ponnambalam and the Bishop of Mannar that a reported "tens of thousands" remain trapped.
According to the cable,
"The Bishop of Mannar… estimated that there were 60,000 to 75,000 civilian left in the zone."

"Ponnambalam estimated that there could still be as many as 100,000 civilians."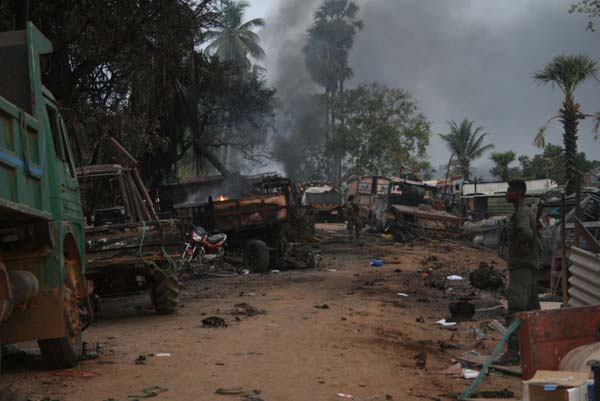 Photograph: In this image released by the military, wreckage is seen burning in Mullivaikkal on May 17th 2009.
Sri Lanka refuses to accept mediated surrenders
A leaked US Embassy cable says,
Ambassador spoke to Gothabaya Rajapaksa on the morning of May 17 to urge him to allow the ICRC into the conflict zone to mediate a surrender.

Rajapaksa commented, "We're beyond that now".

Ambassador contacted senior GSL officials throughout the day, including Secretary of Defense Gothabaya Rajapaksa and Foreign Minister Bogollagama, to urge acceptance of a mediated surrender of the remaining Tigers and maximum restraint on the part of the military to avoid further civilian casualties, particularly after the reports from the Bishop of Mannar of continued high numbers of civilians in the safe zone.

Rajapaksa refused to accept mediated surrender on the grounds that the fighting was all but over, but said troops had been instructed to accept anyone who wishes to surrender.

Sri Lanka refuses to evacuate the wounded
A leaked US Embassy cable says,
"Ambassador spoke to Presidential Advisor Basil Rajapaksa to request access for the ICRC to evacuate dead and wounded.  Rajapaksa refused, contending the GSL could manage on its own."

"Ambassador called Basil Rajapaksa to note the reports of many dead and wounded lying in the conflict zone, and again requested access for the ICRC to the area to evacuate the wounded. Basil energetically refused… Rajapaksa noted that the Army was evacuating wounded civilians by air to Anuradhapura and could deal with the current situation by itself."
Rajapaksa returns to Sri Lanka
Then Sri Lankan president Mahinda Rajapaksa returns to Sri Lanka.
Current Sri Lankan president, and then acting defence minister, Maithripala Sirisena is the first to greet him as his plane lands, garlanding and hugging Rajapaksa. See the video below.
Surrender negotiations continue
Basil Rajapaksa is informed by a TNA parliamentarian in touch with the LTTE that there are 3,000 cadres (including the political wing) and 22,000 civilians who wanted to surrender as soon as possible.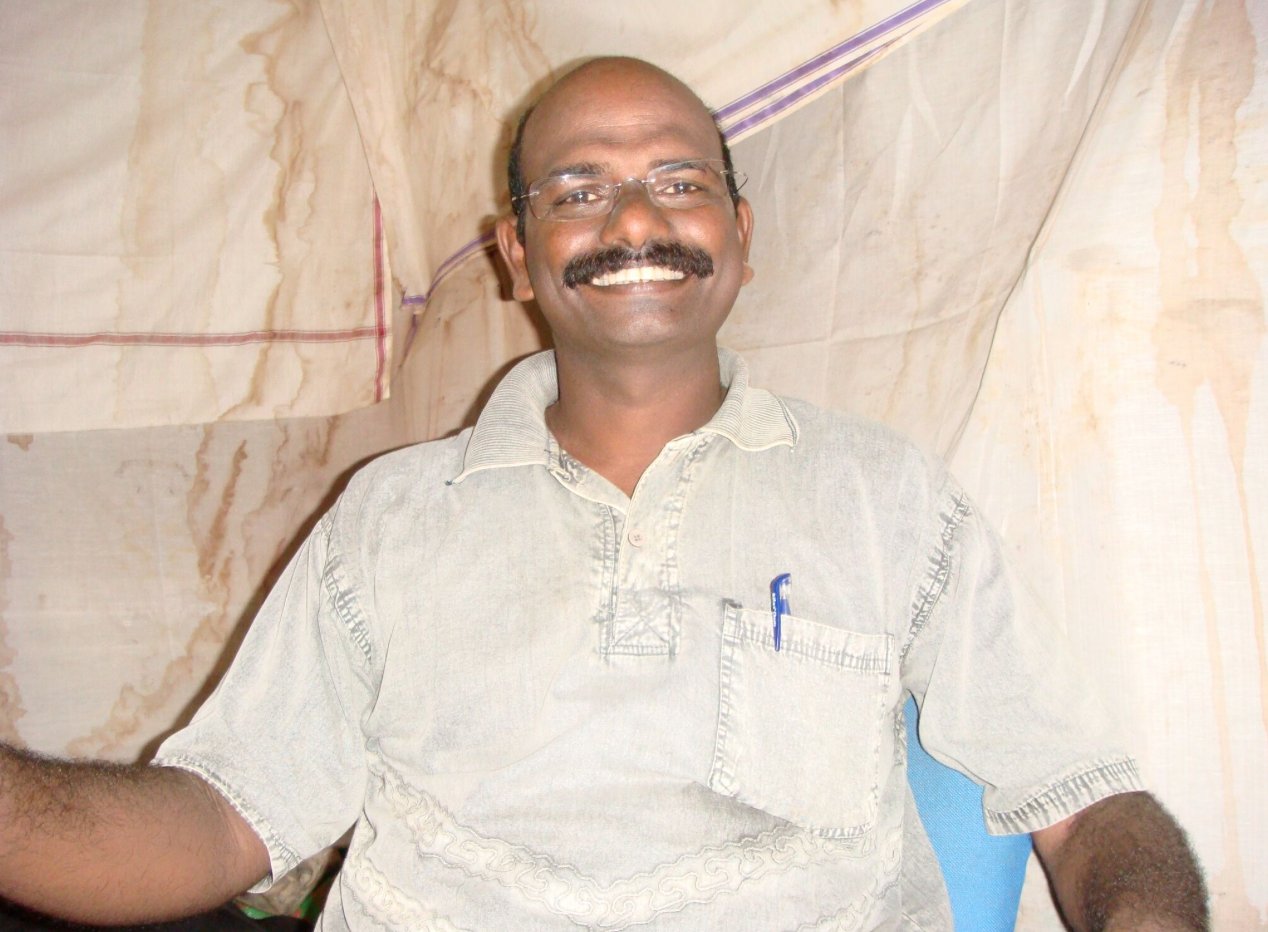 Photograph: LTTE political leader Pulidevan pictured inside Mullivaikkal. This is the last known photograph of him alive.
See accounts from the day, as told by ITJP, below. See more on their website here.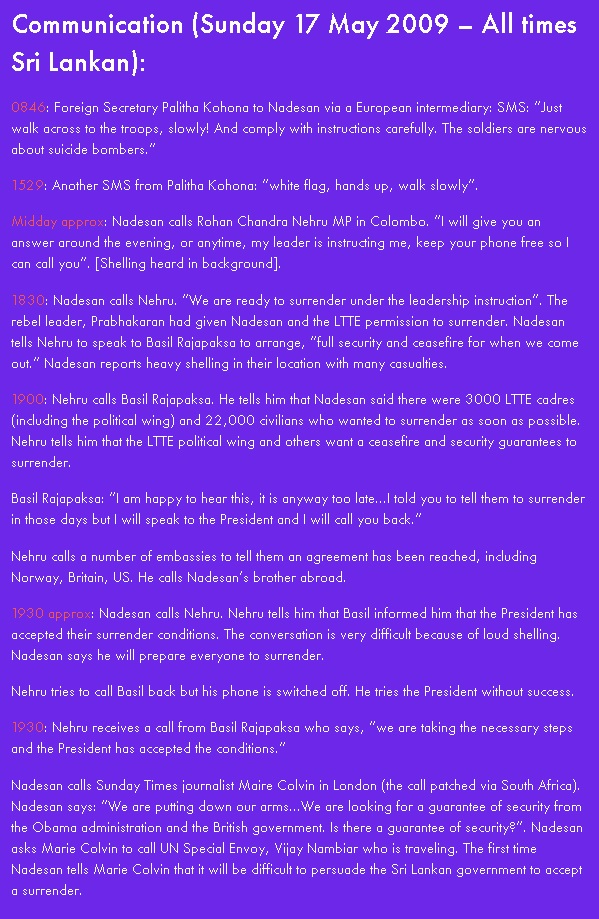 16th May 2009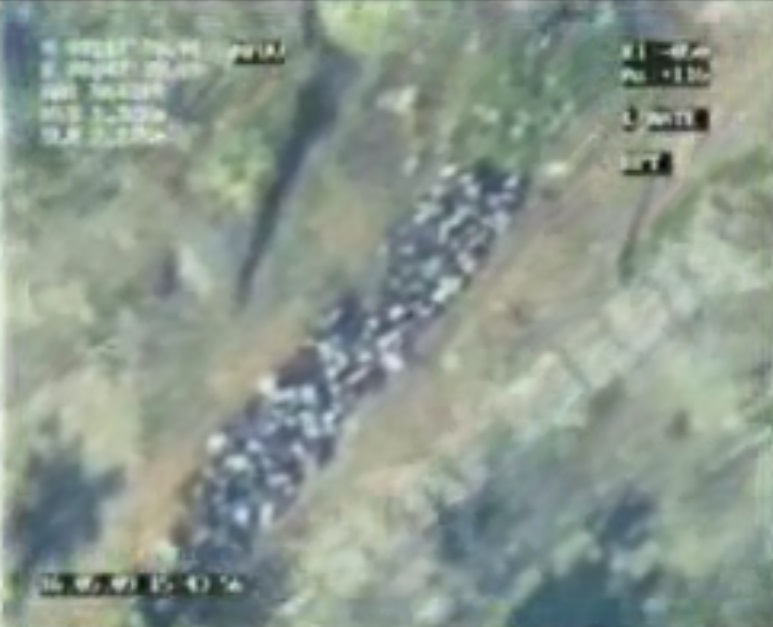 Photograph: Sri Lankan Air Force drone footage showing tens of thousands of Tamil civilians in Mullivaikkal. May 16th 2009.
Soldiers throw grenades into bunkers with surrendering families
As Tamil civilians attempted to surrender to the oncoming Sri Lankan military, many were slaughtered.
The US State department quoted an organization's local sources as reporting,
"that they attempted to escape the NFZ with a large group of children, coming out with white flags. The SLA started shooting at them and told them to go back to their bunkers."

"The sources reportedly saw soldiers throw grenades into two bunkers, and saw tanks going over bunkers and destroying everything inside."
The Sri Lankan military's 58th and 59th Divisions link on the coastline.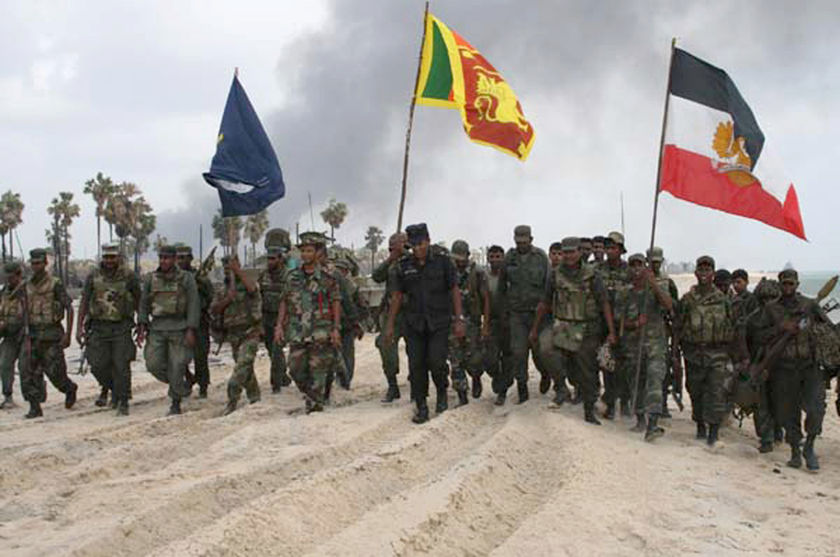 Wounded dying without treatment, doctors surrender
All government doctors and senior health officials have crossed Sri Lankan military lines.
The US State Department reports,
"… in the final weeks of the conflict, doctors in the Mullivaikkal hospital had to operate with butchers' knives and watered-down anesthetics due to the shortage of medical supplies."

"With replacement blood running out, staff filtered what they could from the patients through a cloth before feeding it back into their veins."
The doctors were detained and interrogated for several months by the Sri Lankan military.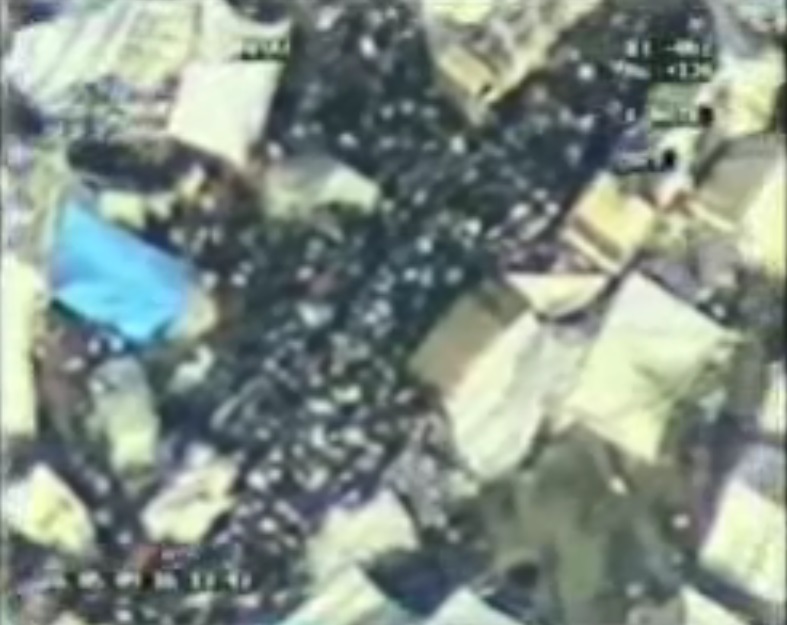 Photograph: Sri Lankan Air Force drone footage of the infamous No Fire Zone, where tens of thousands of Tamil civilians have endured heavy artillery shelling. May 16th 2009.
TamilNet reports that between 2,000 and 3,000 bodies litter the remaining No Fire Zone. "We need a pause from continued cannon and mortar fire to treat the wounded," said one volunteer doctor who had remained. "There is a serious need for external medical crew to take care of the seriously wounded, who are allowed to die without medical attention."
See more Sri Lankan drone footage of the No Fire Zone below.
Rajapaksa declares victory
Sri Lankan president Mahinda Rajapaksa, who is currently in Jordan, declares victory over the LTTE.
Extracts of his speech are below.
"The freedom of the Tamil civilians held hostage by the LTTE is near at hand, and the rescue of all civilians in the small patch of land held by the LTTE will be done in 48 hours… my government with the total commitment of our Armed Forces, has in an unprecedented humanitarian operation, finally defeated the LTTE militarily.

"My government's precise and well coordinated humanitarian operation has so far succeeded in rescuing over 210,000 civilians"

"It is worthwhile reminding ourselves over and over again that there are no good terrorists and bad terrorists. Terrorism anywhere is terrorism and should be treated in the manner it deserves."

"Pressure to contain military operations when terrorism is being eliminated can be very frustrating as terrorists through such interventions will get another lease of life. Countries that are successfully progressing to eliminate terrorism must be encouraged through assistance for purposes of development by international lending institutions without being 'put on hold'."
See his full speech here.
Brigadier Udaya Nanayakkara, the defence ministry spokesman, told Al Jazeera
"The LTTE have no other choice but to surrender or commit suicide."
Surrender negotiations continue
The UN Secretary-General's Chief of Staff Vijay Nambiar is on the island.
The Petrie Report states,
"In the second week of May, LTTE civilian political leaders were in contact… asking that they facilitate a surrender and be present when it took place"

"When the Chef de Cabinet arrived back in Colombo on 16 May he indicated to the Government that he was willing to travel to the Wanni and be present at the surrender. His offer was refused. The Chef de Cabinet said he was nevertheless assured by senior Government officials that LTTE leaders bearing a white flag could surrender."
The LTTE meanwhile issued a statement saying it was "prepared to take all necessary measures that would immediately stop the current carnage" and restated "its categorical position to enter a political process facilitated by neutral international parties and find a meaningful solution to the ethnic crisis."
15th May 2009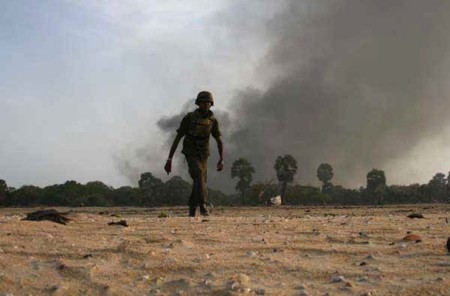 Photograph: A Sri Lankan soldier, backed by heavy weaponry marches into Mullivaikkal. May 15th 2009.
No Fire Zone up in smoke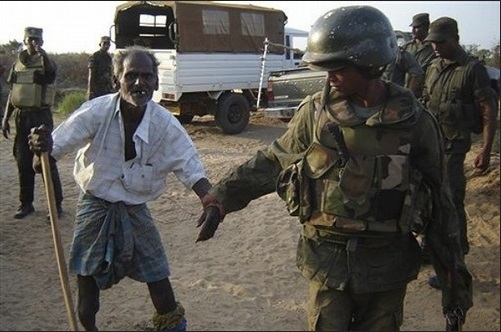 TamilNet's correspondent reported that the "entire safety zone area is in smoke" as the Sri Lankan military continued its bombardment.
A volunteer doctor with the LTTE who was treating civilian casualties said,
"Unless an external humanitarian intervention is carried out without delay, it would be difficult to avert an inhuman catastrophe,"

"The ICRC has abandoned its missions, there is no food, no proper access to potable water to tens of thousands of civilians who are forced to stay under the bunkers, surrounded by dead bodies and wounded civilians who are dying without medical help,"
The doctor said he alone had seen at least 800 bodies within the No Fire Zone.
The Sri Lankan military meanwhile said that 6,000 civilians had crossed over into government-controlled territory.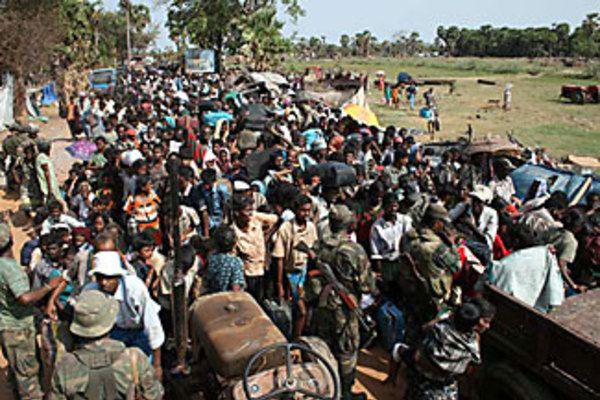 Photographs: Above and right. The Sri Lankan military releases photographs showing Tamil civilians in the government-controlled territory on May 15th 2009.
A leaked US embassy cable says,
"There is no remaining  health care available to the trapped population, and all food and  medical supplies are believed to be exhausted."
The cable also notes that the Sri Lankan military "asked if the US had any knowledge of Prabhakaran's whereabouts".
See the full text of the cable here.
ICRC Ship turns back
On 15 May 2009, an ICRC ship approached but had to turn back "due to the intensity of the fighting" reports the UN Panel of Experts report on Sri Lanka.
Watch Bernard Barret, Red Cross spokesperson, on Al Jazeera on this day below.
UK Secretary of State for International Development, Douglas Alexander, said,
"I am utterly appalled that the ICRC is no longer able to continue its operations in northern Sri Lanka… Denying this life-saving evacuation and medical treatment is a fundamental violation of International Humanitarian Law… There is simply no justification for allowing such needless suffering."
UN special adviser on prevention of genocide issues statement
The Special Advisor of the Secretary-General on the Prevention of Genocide Francis Deng said,
"The two sides should be reminded that individuals can be held personally responsible for war crimes and other international crimes committed in the course of conflict and which attract international jurisdiction".

"The Government should allow the United Nations, and other international humanitarian and aid organizations full and unfettered access to all civilians and detainees in places of detention and processing centers, including all sites for the internally displaced."

"It is not too late for the Government and the LTTE to put an end to an increasingly brutal conflict and pursue a reconciliatory and peaceful path with the ethnic Tamil population."
See his full statement here.
14th May 2009
Photographs: Tamil civilians wade across Nandiakadal lagoon over to Sri Lankan army territory on May 14th 2009.
Last hospital stops functioning
The last remaining makeshift hospital in the conflict zone, set up inside a school, ceases to function from this day as Sri Lankan military shelling becomes heavier.
The OISL reports,
"After 14 May 2009, the doctors could no longer go to the hospital due to the intensity of the shelling, and it had to be closed. Dozens of patients who could not be moved were left behind."

"Medical personnel were seen putting up a white flag and moved some patients to shelter, then, with the patients who were able to, they started to walk towards the Vadduvakal bridge to the south. Some 150 patients were left behind, as their injuries were too serious for them to be moved and they could not be evacuated by ship."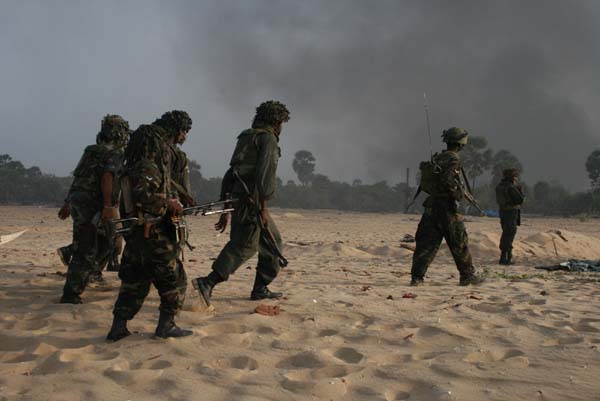 Photograph: Sri Lankan soldiers march into the final conflict zone backed by artillery fire on May 14th 2009.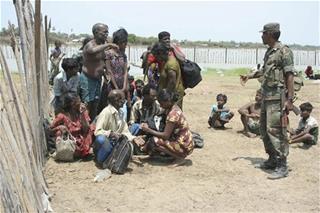 It adds that the LTTE gave orders on this day to ensure civilians fleeing the conflict zone would not be stopped.
"From 14 May, tens of thousands civilians heeded the calls of SLA soldiers with megaphones and slowly walked along the A35 road lined with SLA positions towards the Vadduvakal bridge, which was one of the main crossing points. Most surviving LTTE fighters had discarded their uniforms, laid down weapons and other military equipment and donned civilian dress. Along with other LTTE political cadres, they walked amongst the crowds with their families."
The UN Petrie report stated that as "several thousand civilians continued to flee the NFZ, mostly south along the lagoon, some walking, some on small boats or clinging to inflated tyres… Artillery fire reportedly continued from Government forces".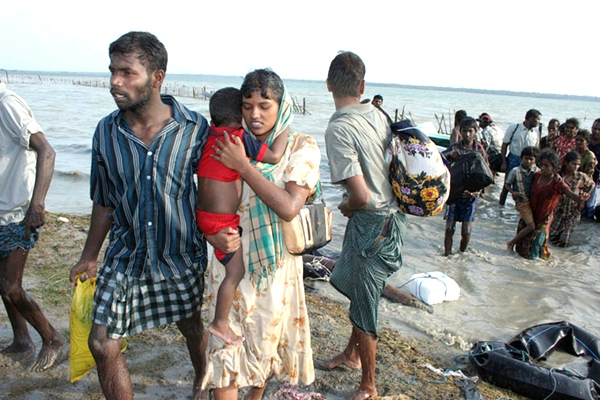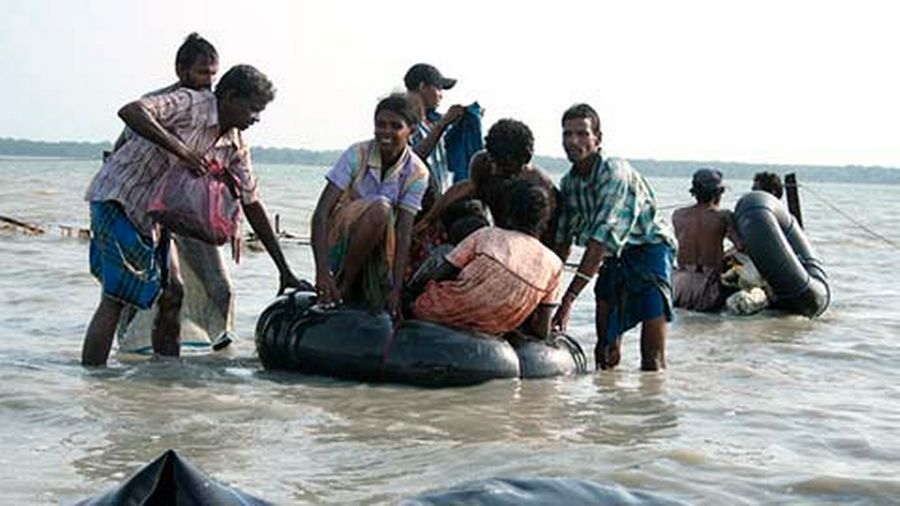 Photographs: Above and right. Tamil civilians cross over into Sri Lankan military territory, many by wading across Nandikadal laggon amidst heavy artillery fire. May 14th 2009.
No respite from the shelling
The LTTE Peace Secretariat reported that the Sri Lankan military had continued shelling, killing thousands of civilians. Extracts reproduced below.
"The local aid workers in Vanni Region estimated 1700 civilians have been killed and over 3000 injured in the last 48 hours due to the persistent use of heavy artillery and mortars by the Sri Lankan armed forces."

"We call upon the international community to protect the civilians from this ongoing carnage by taking whatever measure required. The LTTE is ready to engage with the International Community in its actions to bring an end to the humanitarian crisis."
See the full statement here.
LTTE welcome Obama's call for an end to shelling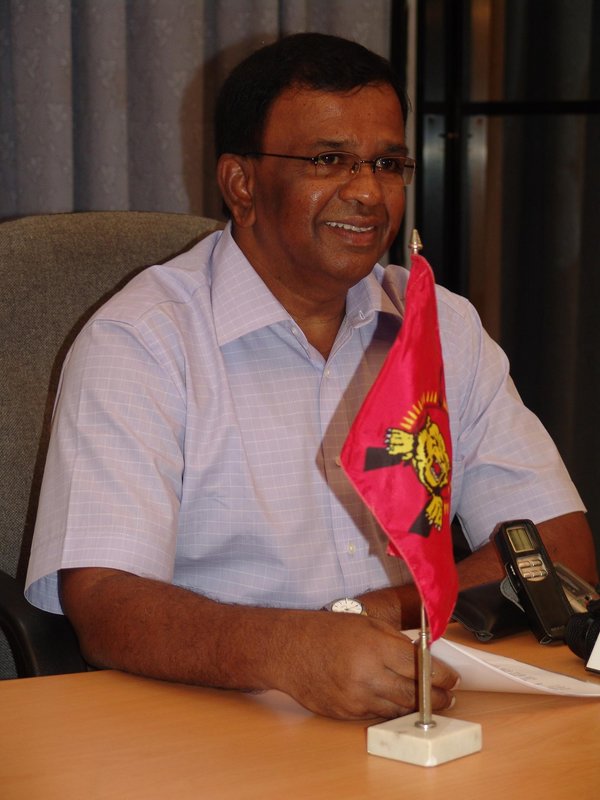 Meanwhile, the LTTE also welcomed a statement by US President Barack Obama made the day before.
"We thank and welcome the categorical calls by President Barack Obama for the Sri Lankan Government to take toward alleviating the humanitarian crisis," said B Nadesan, the political head of the LTTE who was inside the final conflict zone.
"The United Nations Organization and the Security Council has held back in their traditional humanitarian leadership role to take prudent measures and bring about a truce and safeguard Eelam Tamils. Now, the Eelam Tamils earnestly look forward to President Barack Obama to lead the humanitarian intervention."

"We thank and welcome the categorical calls by President Barack Obama for the Sri Lankan Government to take toward alleviating the humanitarian crisis. Presence and free access for independent humanitarian aid workers and media to all parts of this island, particularly in all areas of the Tamil Homeland, is urgently needed."

"We thank President Barack Obama once again, for taking time to shed light on the plight of Eelam Tamils."
See the full statement here.
'Unimaginable humanitarian catastrophe'
The US State Department reports that for the third consecutive day "a ferry carrying 25 MT of food was unable to evacuate patients because of continuous heavy fighting". "The last time any food and medical supplies were offloaded or patients were evacuated was on May 9."
"Our staff are witnessing an unimaginable humanitarian catastrophe, " said the ICRC's director of operations, Pierre Krähenbühl.
" Despite high-level assurances, the lack of security on the ground means that our sea operations continue to be stalled, and this is unacceptable… No humanitarian organization can help them in the current circumstances. People are left to their own devices."
Plans for surrender
The OISL reported that several senior political leaders within the LTTE had begun to initiate plans to surrender, alongside injured cadres and civilians. It states,
"This intention was communicated the same day to Basil Rajapaksa, brother of the President."

"Later that day, Tamil MPs who were in contact with Nadesan and Puleedevan also reported to Basil Rajapaksa, that the LTTE had laid down arms and ceased fighting. Basil Rajapaksa responded that the army was already making announcements and dropping leaflets that people should hold up white flags and walk towards the military"
British parliament debate
Parliamentarians held a debate on Sri Lanka inside the British House of Commons on this day. During the debate, then Minister of State at the Foreign and Commonwealth Office Bill Rammell said,
"As the Foreign Secretary made clear in New York on Monday, we strongly believe that the civilian situation in Sri Lanka merits the attention of the United Nations at all levels, including formal discussions by the Security Council."
The current Labour Party leader Jeremy Corbyn stated,
"There has to be isolation of Sri Lanka because of its refusal to undertake the ceasefire. There has to be a diplomatic and political way forward that brings about that ceasefire and a process of safety."

"Are we just going to allow satellite images of this killing to go on and no further action to be taken?… If we cannot act to impose economic sanctions now on Sri Lanka, shame on us."
Current Shadow Chancellor of the Exchequer John McDonnell said there should be "breaking off all diplomatic links, as talking to them (Sri Lankan government) is not working so what is the point of that?". He added,
"We should send back their representatives and bring back our diplomats. We should isolate them diplomatically, as has been said."

"We should also isolate them economically. If that means imposing sanctions, then so be it, and if it comes down to sequestration of Sri Lankan money, wealth and industrial investments in this country, let us do that to show them we mean business."

Most members of my Tamil community believe genocide has taken place, and I must concur with them now because of the numbers of those who have died and been injured, and because of the targeting, in this small area, of this community. We cannot stand by."
John Bercow who has been the Speaker of the House of Commons since June 2009, said,
"I was a member of the five-person delegation to Sri Lanka…Let me be clear… the Government of Sri Lanka are still fundamentally in denial."

"They were given to ostentatious and bellicose denunciations of all and sundry who had dared to criticise them. They were extraordinarily rude, and inappropriately so, about the Foreign Secretary. They took umbrage at our raising critical evidence against them. For example, when I mentioned, during a meeting with the President, the UN's satellite photography, which appeared to repudiate the notion that they had stuck to their 12 February commitment not to deploy heavy weaponry, the President's response was both to complain bitterly about UN spying and to rant at me about adopting a neo-colonialist posture."

"allegations of war crimes, crimes against humanity or genocide must be investigated whenever… There can be no question of any amnesty for the Sri Lankan Government, at any time, from consideration of allegations of that kind."
See more from Hansard here.
Watch the full debate below.
Conditions in camps worsen
According to the World Health  Organization, cases of chickenpox in the IDP camps have increased from 600 in February to over 8,000 at present.
Diaspora protests continue
Protests by the Tamil diaspora continued across the world.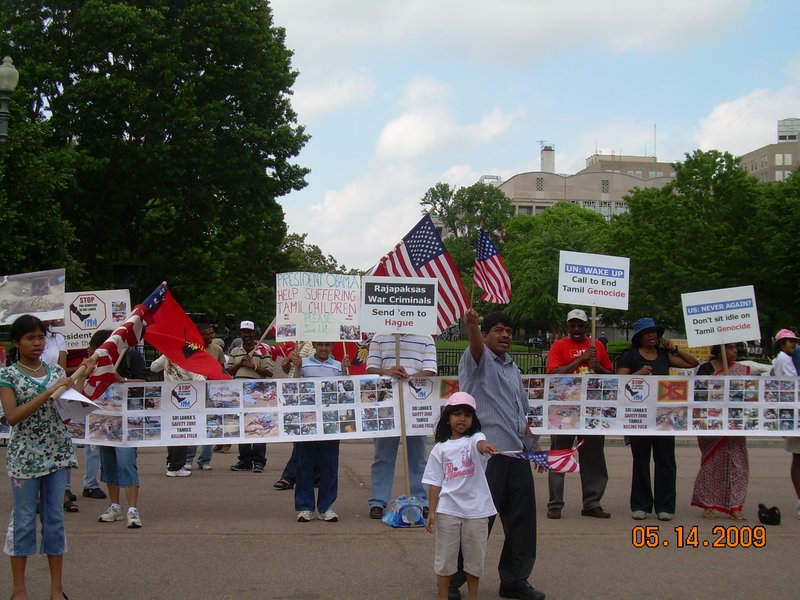 Photograph: Tamil protesters at the White House, Washington DC. May 14th 2009.
In London, demonstrators had occupied Parliament Square for the 38th day in  succession.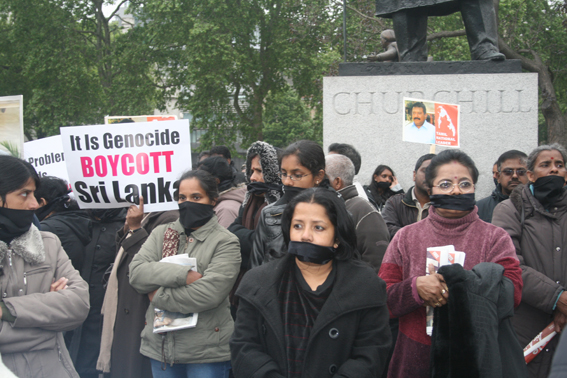 Photograph: Tamil protesters in London. May 14th 2009.
Our Holocaust
The Tamil Guardian editorial went to print on this day, 9 years ago. Extracts have been reproduced below.
"…since January 'genocide' has not been some abstract concept. The world has witnessed it every single day since as first dozens, then scores, then hundreds of Tamils were killed and wounded. Even by Sri Lanka's horrific standards, the rate at which our people have been slaughtered is stunning."

"What has also become clear is that the international community has knowingly and deliberately allowed this slaughter to proceed. The ideological fixation with 'fighting terrorism' and 'ending armed conflict' has meant that in the interests of destroying the Liberation Tigers, any number of Tamil civilians are expendable. Notice that even though it is the Sinhala state that is pounding the civilians, blocking food and medicine and repeatedly blasting the hospital, it is the LTTE that has drawn  the focus of the UN's condemnation?"

"Not one Sinhala political actor – not even the UNP, the darling of the liberal West – has condemned the slaughter. It is inescapable that whatever the international community does, the Sinhala state will continue to pose an existential threat to the Tamil people"

"The sixty-year old struggle for Tamil liberation is entering a new phase."
See the full text here.