CAN GOTABAYA RAJAPAKSA CHANGE? – SUNANDA DESHAPRIYA
03/10/2019                                                                                    BY SRI LANKA BRIEF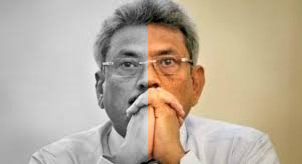 M.P. Vasudeva Nanayakkara, an unwavering Mahinda Rajapaksa loyalist, accepted that white van abductions happened under Gotabaya Rajapaksa. He also noted that Gotabaya has changed.
M.P. Kumara Welgama who has been, for a long time, a Mahinda Rajapaksa loyalist, told media that "if Gotabaya becomes the President, I too might face the fate of Prageeth Eknaligoda". Parageeth Ekneligoda- writer, cartoonist, and journalist, was abducted and made to disappear, supposedly by a military hit squad a day prior to the presidential election of 2010.
Responding to the use of "Terminator", political analyst Jayadeva Uyangoda, wrote, 'it may not be an exaggeration to say that by choosing the word 'terminator' to describe his brother's destructive potential, Mr Basil Rajapaksa sounded prophetic as well. The Gotabaya project actually has already promised to 'terminate' from the political vocabulary such words as 'human rights,' 'minority rights, 'political freedom' and 'liberalism'. He takes pride in even threatening to terminate Sri Lanka's democracy that has survived this long under severe stress and setbacks. For him and his ex-military and business-tycoon cohorts, democracy, political freedom, and human rights are wasteful luxuries which Sri Lanka should immediately discard' (The Hindu).
In his policy statement made at Viyathmaga Convention on 08th September 2019, Gotabaya never mentioned the words of human rights, reconciliation or civil society. In his vision, democracy is to be strengthened by bringing in technocrats [rather than by strengthening the civil society].  Gotabaya's focus is on national security and development.
In early 2019s, publishing his opinion on politics through a series of dictated columns called 'Man Petha' [The Road Ahead] in a daily newspaper, Gotabaya argued that Sri Lanka should give priority to economic development instead of civil liberties.  He argued further that dictatorship in Singapore was a mild one according to the standards of the 20th century, and it was not an intermediary system but one at a higher level than the liberal democracy.
Quoting Machiavelli extensively, Gotabaya proposed that the most important factor in war and peace is how power is divided and that the most important factor in international politics is military power. One should select their friends based on how powerful they are. In international relations, ethical considerations should be thrown away. This was his view.
'State power will be weakened when individual's rights are protected; Rightist, as well as leftist dictatorships, become stronger when individual's rights are curtailed based on different grounds', argued Gotabaya quoting Francis Fukuyama in the same series of dictated columns.
Gotabaya's past as the Defence Secretary is a reflection of his vision as the President– A trial of how his policies will be translated into practice.  The assurances by his promoters that he will change, serve to make us believe that Gotabaya Rajapaksa will be a democratic leader. Leaders can change their policies. But changing one's behaviour which has been consistently manifested over the years, and the values underlying such behaviour is not easy. One may even say that it is impossible. As he has already shown, his policies will not take him on the road to democracy but towards authoritarianism. We have not yet seen how severe Gotabaya's autocracy can become. But with the powers of Executive President in hand, we can expect to see the full extent of his dictatorship.
While Gotabaya was in office during 2005 – 2015, we saw how he became angry, as soon as the questioning became critical. He believed himself to be always right and others to be wrong. When a BBC reporter asked him about the slain editor of the Sunday Leader newspaper, Gotabaya retorted, 'Who is Lasantha? He is a tabloid editor. Why are people worried about one man?'. This was caught on camera.  Find the link here: https://www.youtube.com/watch?v=bq8f4waVlPE
On 26th February 2009, N. N.Vithitharan, the Editor of a Colombo based Tamil daily was abducted by uniformed policemen, tortured, and left by the roadside, only to be officially arrested by the Colombo Crime Division immediately following the incident.  When an  ABC TV reporter asked about this incident, Gotabaya shouted, 'We have evidence, he is a terrorist supporter', and threatened the reporter not to get 'blood on his hands' by raising the issue. Editor N.Vithitharan was later released without any charges. Watch the video here: https://srilankandiasporablog.wordpress.com/2009/04/26/editor/.
The videos are still online, anyone who watches them can see how angry Gotabaya can become.
On 24th May 2008  Gotabaya summoned two leading journalists and activists, Poddala Jayantha and Sanath Balasuriya, to question about their participation in the protest against the abduction and torture of defence correspondent Keith Noyer. Gotabaya was angry. He told them, 'It is the two of you who organise these things and that dog Sunanda sends these abroad', threatening them that he would 'take care' of them, if they did not stop their activities. 'I don't know who has given birth to these fellows', he remarked. See more at https://srilankamirror.com/news/14566-how-gota-reprimanded-poddala-jayantha On 1st June 2009 journalist Poddala Jayantha was abducted, tortured, and left to die in a ditch. It was only his good luck that saved him.
On another occasion he told BBC correspondent, referring to General Sarath Fonseka, "We will hang him". Gotabaya was angry, even his facial expressions look dangerous.  See more at https://www.youtube.com/watch?v=7tHlSZnrUiE.
Just 3 days after the 2010 presidential election, on 28th January 2010, then JVP leader Samawansa Amarasinghe was threatened over the telephone by Defence Secretary Gotabaya Rajapaksa. Gotabaya warned him to stop publishing Lanka newspaper, or he would be harmed. See more at http://www.lankanewspapers.com/news/2010/1/53409_space.html
One may wonder what Gotabaya Rajapaksa thinks of his own behaviour in retrospect. Does he regret those words?
Some may even justify his words and his actions. In many instances including the ones referred above, Gotabaya has acted with rage. He appears unable to control his anger even on camera.   Then, what guarantee is there, to ensure that he will not feel rage and act on it, towards his critics and political opponents, especially if he enjoys immense political power?
Gotabaya Rajapaksa tells us that he is ready to be a President who respects the rule of law. But his actions as Defence Secretary show an entirely different picture.
Here are a few examples.
During the 2011 Local Authority Elections, Gotabaya openly engaged in political campaigning and even addressed political meetings supporting his loyalist MP Duminda Silva. As the Defence Secretary it was illegal for him to engage in election campaigning while holding public office. He failed to respect rule of law.
Gotabaya admitted in his affidavits submitted to the court in 2005, that he came to Sri Lanka to work for his brother Mahinda Rajapaksa's presidential election campaign. He came to Sri Lanka on a visitor visa as an American citizen. Foreigners cannot engage in election-related campaigns in Sri Lanka. But he engaged in his brother's campaign unlawfully.
When Gotabaya was the Defence Secretary, two international media freedom advocates were deported from Sri Lanka on the ground that they were involved in media trainings in Sri Lanka without a valid working visa.
It has now come to light that Gotabaya Rajapaksa has also been on the electoral register while he was an American citizen. On top of this, it has been revealed that the number of his identity card entered in to the electoral register was an invalid one.
None of these acts show respect for the rule of law. To the contrary, it shows an intentional violation of the law.
It must be recalled that independence of the judiciary is a cornerstone of the rule of law. Gotabaya's track record in this regard is also problematic. When Gotabaya Rajapaksa filed a motion in the California Central District Court seeking to dismiss the case filed against him by Ahimsa Wickrematunge in June this year, he was represented by the former Chief Justice of the Supreme Court of Sri Lanka Asoka De Silva. Employing a former Chief Justice for his defence was wrong, ethically as well as legally: Article 110(3) of the Sri Lankan Constitution states that 'No person who has held office as a permanent  judge of the Supreme Court or of the Court of Appeal may appear, plead, act or practice in any court, tribunal or institution as an attorney-at-law at any time without the written consent of the President'. Justice Asoka de Silva had not obtained President's consent to appear for Gotabya Rajapaksa. Does this not provide an example of abuse of power?
Today, media and journalists are not allowed to ask impromptu questions from Gotabaya Rajapaksa. All other political leaders can be approached for comments whenever they are seen in public. Why is media not allowed to ask probing and critical questions from Gotabaya? Is the SPPP afraid that if journalists are allowed to ask critical questions, their candidate Gotabaya will slip into aggression as he has on previous occasions?
If Gotabaya Rajapaksa wants to show the country that he has transformed into a democratic leader, he needs to answer many questions over his past. Despite the repeated statements from his loyalists, there is no evidence that he has, in truth, changed into a gracious democratic leader.  Do people really change? Or do the core characteristics always stay? Considering Gotabaya's past, whether it is possible for him to go through such an integral transition itself is a question.
(Translation of a column published on Ravaya weekly, by the same author.)
Basil Rajapaksa told the country that their presidential candidate for the upcoming presidential election "will change himself". Basil Rajapaksa also told us that "Gotabaya will be a terminator"- an apt description, in view of the connotations of danger attached to the word "terminator".