What's Behind the Terrorist Attacks in Sri Lanka?
Coordinated blasts recall the island country's violent past
APRIL 21, 2019
More than 300 people have been killed in simultaneous explosions at churches and hotels in Sri Lanka that also injured some 500 victims. The coordinated attacks took place on Sunday morning.
According to media reports, there were eight blasts in all, including at churches in Negombo and Kochchikade in the country's west, and Batticaloa in the east. Three luxury hotels in the capital Colombo were also targeted.
Sri Lanka's government says the attacks were carried out by National Thowheeth Jamaath, a little-known radical Islamist group. Colombo has declared an indefinite national curfew and blocked social media networks such as Facebook and WhatsApp in order to prevent the spread of rumours that might spark intercommunal violence, as happened in 
March 2018
 when Buddhist mobs attacked Muslim mosques, businesses, and homes.
Forty suspects have been detained in connection with the bombings. On Tuesday, the Islamic State claimed responsibility for the attacks but authorities has not confirmed the group's involvement.
---
Sri Lanka has more than 22 million inhabitants. Of these, about three-fourths are ethnic Sinhalese, most of whom are Buddhist. About a sixth of Sri Lankans identify as Tamil—either of Sri Lankan or Indian descent—and are mostly Hindu. About 10 per cent of the population is Muslim, and 7 per cent Christian—a group that includes both Tamil and Sinhalese.
---
Religions of Sri Lanka
| Religion | Percentage |
| --- | --- |
| Buddhist | 70.2 |
| Hindu | 12.6 |
| Muslim | 9.7 |
| Roman Catholic | 6.1 |
| Other Christian | 1.3 |
| Other | 0.05 |
SOURCE: CENTRAL INTELLIGENCE AGENCY
---
Given that three of the blasts occurred at churches, timed for Easter services, at least part of the attack was aimed at the country's more than 1.5 million Christians. The almost simultaneous blasts left no time to warn other churchgoers.
Reuters cites the National Christian Evangelical Alliance of Sri Lanka, which represents more than 200 churches and Christian organizations, as having recorded 86 incidents of discrimination, threats, and violence against Christians last year.
The other main targets seem to be people who would frequent Colombo's hotels—usually a mix of tourists, business people, and wealthy locals. At least 30 of the dead are believed to be foreigners.
---
Coordinated Attacks in Three Cities
The ability to launch several attacks all at once suggests a degree of sophistication, planning, funding, and reach. While authorities are still piecing together what happened, the blasts bear at least some resemblance to the November 2008 attacks in Mumbai, which simultaneously targeted two luxury hotels, a busy railway terminal, and a Jewish outreach center. According to Indian intelligence, the Mumbai attacks were designed not only to cause the highest possible number of casualties but also to target groups—such as Western tourists—that would lead to the greatest amount of international media coverage. One of the 2008 attackers was apprehended, and the others were successfully identified, leading authorities in India to declare the Pakistan-based Lashkar-e-Taiba militant group responsible. But there are several differences with Sunday's attacks in Sri Lanka, not least the fact that they were spread out across the country instead of concentrated in a single city, and that unlike in Mumbai, no hostages were taken.
---
On April 11, a top Sri Lankan police official reportedly issued an advisory warning of potential suicide attacks on churches. (This letter has not been independently verified by Foreign Policy.) In that advisory, Deputy Inspector General Priyalal Dissanayake wrote that the radical Islamist group called National Thowheeth Jamaath was planning nationwide attacks.
On Monday, Sri Lankan Health Minister Rajitha Senaratne addressed a press conference and pointed to outside help: "There was an international network without which these attacks could not have succeeded."
Speaking to reporters on Sunday, Prime Minister Ranil Wickremesinghe acknowledged that some information about a planned attack had been circulating. "We must also look into why adequate precautions were not taken," he said.
Wickremesinghe's comments could be interpreted as a criticism of President Maithripala Sirisena, the commander of the country's security forces.
---
While it's unclear if the country's history played a role in Sunday's attacks, Sri Lankans have experienced decades of sectarian violence.
In 1948, Sri Lanka, then known as Ceylon, won independence from British rule. The country's Sinhalese majority, countering what they saw as colonial favouritism toward Tamils, disenfranchised Indian Tamil migrants, leading to the group's neglect.
That led to the formation of an armed insurgent group known as the Liberation Tigers of Tamil Eelam (LTTE) in 1976. The group initially campaigned for a Tamil homeland in the country's northeast. But the movement turned violent, with the LTTE attacking police and army forces as it sought greater national prominence. The Tigers became known for their suicide bombings, which they were among the first militants to pioneer, and deployment of child soldiers. In 1997, the U.S. State Department officially designated the LTTE a terrorist group.
For years, Sri Lanka's army—mostly Sinhalese and Buddhist—carried out campaigns to root out the insurgents from their hideouts in the country's northeast. The war finally ended in 2009 after the army killed LTTE leader Velupillai Prabhakaran. But watchdog groups say both the LTTE and the army were guilty of war crimes and rights abuses. According to the United Nations, about 40,000 civilians were killed in the final stages of the civil war.
Tourism dropped sharply during the war years, hitting a low point after a tsunami devastated Sri Lanka in 2004. There were only 500,000 visitors in 2009; the industry has since recovered to attract 2 million visitors last year.
Even so, the tensions of Sri Lanka's bloody history have lingered. The final, intense period of the civil war left hundreds of thousands of Tamils displaced, thousands of whom are still missing. Communal tensions reignited last year: In the central district of Kandy, Buddhist Sinhalese mobs attacked mosques and Muslim establishments. In response, Colombo imposed a nationwide state of emergency.
In 2016, Sri Lankan authorities reported that 32 Sri Lankans had joined the Islamic State, but the terrorist group is not known to have a presence in the country.
This story has been updated to reflect recent developments. 
What's Behind the Terrorist Attacks in Sri Lanka?
---
Islamic State and Jamaat al-Tawhid al-Watania claim responsibility for Lankan blasts
Colombo, April 23: The Islamic State and the Jamaat al-Tawhid al-Watania group have both claimed responsibility for the terrorist attacks carried out in Sri Lanka on Sunday.
Reuters quoted the Islamic State's AMAQ news agency to say that the organization has claimed responsibility for the multiple suicide bombings which took the lives of more than 300 people including 38 foreign nationals.
Earlier, Rita Katz, Director of the respected terror monitoring SITE Intelligence Group, said that Islamic State (IS) supporters have been applauding the attacks on social media, and "celebrating the casualties".
Katz said that the IS media channels are 'posting rampantly' about the blasts and praying 'may Allah accept' the suicide bombers.
She claimed that the online praise indicated that the group may be preparing to take responsibility for the attacks.
The Russian news agency TASS quoted the Al-Arabiya TV channel to say that Jamaat al-Tawhid al-Watania, a little known group, has claimed responsibility. The channel had given no details about the organization.
Sri Lanka police spokesman, Ruwan Gunasekera, said that 40 persons have been detained for questioning, 26 of them are with the Criminal Investigation Department (CID) and three are under the custody of the Terrorism Investigation Department (TID).
Homegrown Group
However, in Sri Lanka itself, the government and even the leaders of the Muslims, are saying that the suspects are a new Sri Lankan outfit called 'National Tawheed Jamaat" headed by Moulavi Mohammad Zahran of Kathankudy, Sri Lanka's only 100% Muslim town which is located in the Eastern province
According to Hilmy Ahamad a leader of the Muslim Council of Sri Lanka (MCSL), the National Tawheed Jamaat headed by Moulavi Zahran had broken away from the older Sri Lanka Tawheed Jamaat after the December 26, 2018 incidents in Mawanella in Kandy district in which Muslim radicals had desecrated scores of Buddha's Statues.
Ahamad said that Zahran fled to various towns in Sri Lanka and at one stage crossed over to India. Some said he was living in Chennai and others said he was in Bengaluru. He has been absconding since then.
Moulavi Zahran was a teacher in a Kathankudy Madrassah. He was a powerful speaker and therefore sought after. Said Hilmy Ahamad: " Parents were happy that their children were learning the Quran. But they did not know that Zahran was teaching radicalism."
Zahran disconnected himself from the Sri Lanka Tawheed Jamaat and also all other Jamaats, including the Tamil Nadu Tawheed Jammat, and became a lone wolf in hiding. His name suddenly emerged after the Easter Sunday blasts in Colombo. The Lankan government had publicly named him as the mastermind of the carnage. One report said that he was the suicide bomber who blew himself up in Shangri-La hotel in Colombo.
In order to distance themselves from Zahran and the National Tawheed Jamaat, Sri Lanka and Tamil Nadu Tawheed Jamaats issued statements saying that they had nothing to do with Zahran and his organization.
Intelligence Was There
According to Lankan government minister Harin Fernando, Indian intelligence service had got wind of Zahran's plans to stage suicide attacks on posh hotels, churches and other targets, including the Indian High Commission in Sri Lanka.
This was shared with the Lankan authorities on April 4 and 11. A Deputy Inspector General of Police had sent up a memo to the top brass in the Lankan Establishment about the intelligence input and sought to follow up measures.
The Muslim Council Sri Lanka headed by N.M.Ameen and Hilmy Ahamad had also warned about the hate speech and radicalism of Zaharan after the desecration of Buddha statues in Mawanella in December 2018. Ahamad had informed the authorities about radical elements in his community three years earlier, supported by documents.
"We had warned about Zahran as part of our complaint about hate speech by Buddhist and Islamic leaders and produced evidence including videos of Zahran's speech. But no action was taken perhaps because there was insufficient evidence," Hilmy Ahamad said.
Huge Cache of Arms Found
Dr. Ranga Jayasuriya, a security expert in a Colombo-based think tank, writing in Daily Mirror on April 23, recalled that after the desecration of Buddha's statues in Mawanella on December 26, 2018, interrogation of seven suspects had led to an 80 acre-coconut farm in Wanathawillu in Puttalam district not far from Colombo, where a large cache of explosives was found.
"The cache included 100kg of C4 explosives, 75 kg ammonium nitrate and potassium chloride and 6 cans of 20-litre nitrate acid, which investigators believed were meant to make explosive devices. Four individuals were arrested. However, the key suspects, who were not in the plantation at the time, have remained at large."
An un-named Muslim leader had offered to arrange the surrender of an extremist preacher who was in hiding in return for an assurance, Dr.Jayasuriya wrote.
It now transpires that the extremist preacher was Moulavi Zaharan.
Minister Kabir Hashim has now told a media conference that one or two persons who were arrested at Wanathawillu were released due to political pressure. One of the released suspects is now being identified as an Easter Sunday suicide bomber, Dr.Jayasuriya notes. says.
The Daily Mirror article reveals that in mid-March 2019, Mohamed Razak Taslim (37), the Coordinating Secretary of Highways and Investment Promotions Minister Kabir Hashim was shot at a point-blank range at his residence in Dhanagama Mawatha, Kandy, by two assailants. Taslim had helped the CID investigations to nab the Mawanella attackers.
As in the previous cases, in this case, too, there was no follow up action.
Analyzing the reasons for inaction, Dr.Jayasuriya says that for many in political circles and among Muslim community leaders, the prospect of an armed and violent Islamic extremism has been a bitter pill to swallow. Their immediate concerns have led to the threats being downplayed or ignored. But this has been at the expense of lives of many hundreds of Sri Lankans, he points out.
However, the involvement of Moulvi Zahran's brother Rilwan came to light. Mohammed Milhan has been found to be active on social media, instigating followers against other faiths.
First Muslim Suicide Bombers in Lanka
The Easter Sunday blasts are noteworthy for another point of view. In Sri Lanka, suicide bombings are known to be an exclusive preserve of the Tamil Tigers. But the Easter Sunday bombings show that even Lankan Islamic extremists are capable of indulging in this deadly act.
The Government Analyst has reportedly confirmed that seven suicide bombers had taken part in the attacks on Easter Sunday. Two were deployed in Shangri-La hotel and one each in other locations. And all the suicide bombers are reportedly Sri Lankans.
Foreign Involvement
As Prime Minister Ranil Wickremesinghe said, serial blasts on this wide and destructive scale could not have been arranged by a newly founded small group and that a foreign involvement and expertise are a distinct possibility.
The government is saying that investigations would be conducted into this aspect. But a renowned Sri Lankan security expert, Dr.Rohan Gunaratna, Professor of Security Studies at the Rajaratnam Center for International Studies at Nanyang University in Singapore, has said that the attacks have the signature of the Islamic State (IS). The IS had conducted it with the help of its "Sri Lankan branch". The National Tawheed Jamaat could well be a branch of the Islamic State.
According to Dr.Gunaratna, the choice of targets is a giveaway. The targets were top-end hotels frequented by White foreigners and Christian churches. These indicate that the attackers had animosity towards the West and its religion Christianity.
"Remember, it was a West-led coalition which ousted the IS from Iraq and Syria, and Christianity is seen as the West's ideological underpinning," Dr.Gunaratna said.
However, while not ruling out IS' involvement, locals add other theories such as a Buddhist cum nationalist plot to overthrow the present pro-West regime of Prime Minister Ranil Wickremesinghe by showing it as being too weak and ineffective to protect the country. The other theory is that Mossad or the agency of another anti-Muslim country could have carried out the strikes to stir up Buddhist antagonism towards Muslims.
Lankan Muslims Abhor Terror
Members of other communities in Sri Lanka complain that the enlightened sections of the Muslim community are not doing anything to stem encroaching fundamentalism and radicalism in their community, and are in a perpetual mode of denial, But Muslim leaders say that they are doing their bit and deny that the Muslims at large are supporters of violence.
"Radical groups like the National Tawheed Jamaat are very very distant from the vast majority of Muslims in Sri Lanka," says Hilmy Ahamad.
N.M.Ameen, President of the Muslim Council of Sri Lanka, said in a statement that the Easter Sunday attacks were meant to create divides between religious and ethnic groups.
"This is a deliberate attempt to create panic and disrupt life," Ameen said while appealing to Muslims to provide any assistance that the government might require in conducting the on-going probe to find the perpetrators of the "heinous crime" and bring them to justice.
Sri Lanka police spokesman, Ruwan Gunasekera, said that 40 persons have been detained for questioning, 26 of them are with the Criminal Investigation Department (CID) and three are under the custody of the Terrorism Investigation Department (TID
https://newsin.asia/islamic-state-and-jamaat-al-tawhid-al-watania-claim-responsibility-for-lankan-blasts/
---
NTJ paid by Sri Lankan intelligence, soldiers organised police murder – cabinet spokesperson
 30 April 2019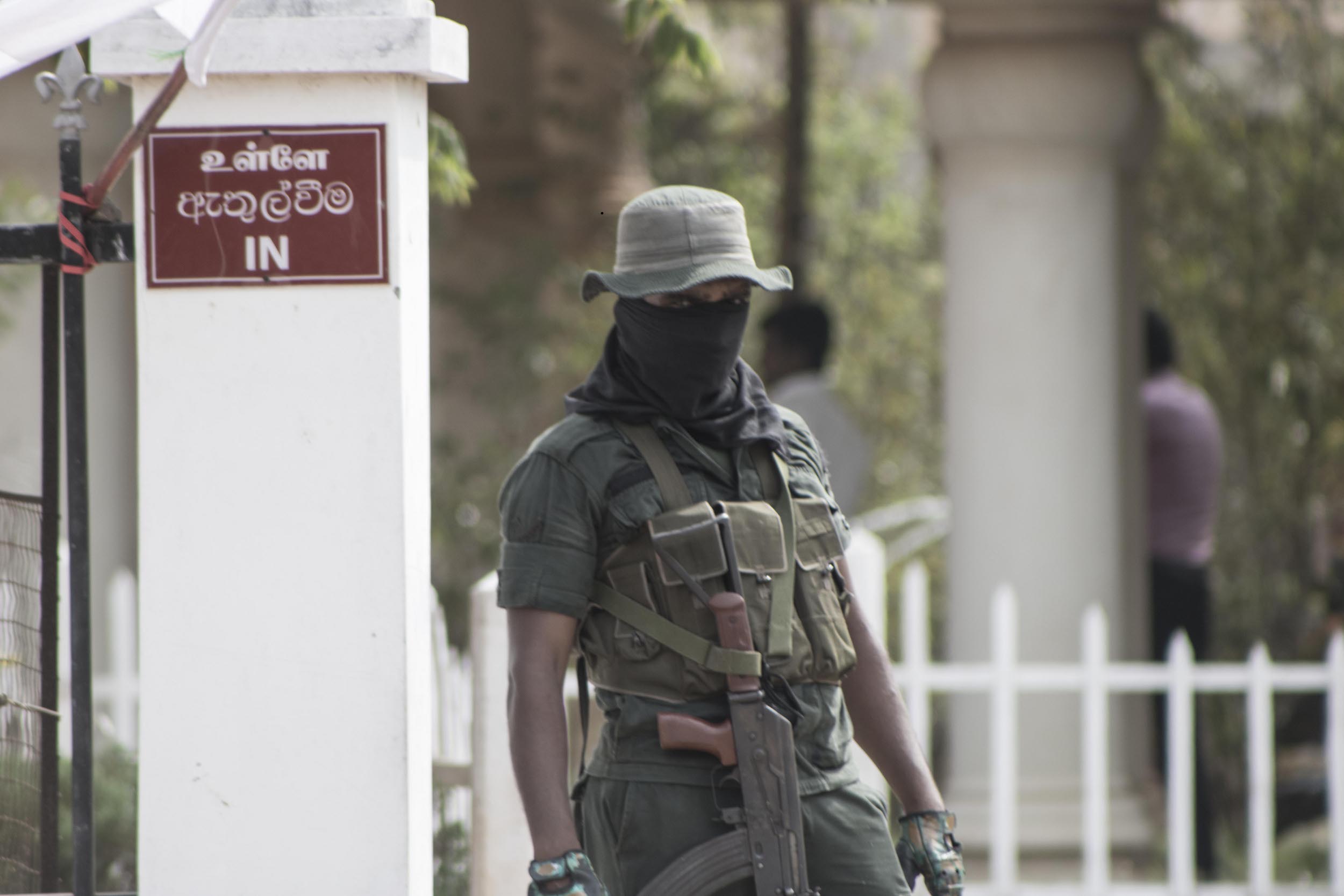 Sri Lanka's cabinet spokesperson said that at least four army officers were involved in organising the assassination of police officers in Batticaloa last year, and claimed dozens of National Thawheed Jammath members (NTJ) were on the payroll of Sri Lankan intelligence linked to Gotabaya Rajapaksa.
Rajitha Senaratne made the claims in a press conference in Colombo earlier today after it emerged that the Sri Lankan security forces had previously ignored several warnings about the NTJ and their plans to attack churches last week.
Speaking to reporters, Senaratne said at least four army officers had directed the assassination of two Sri Lankan police officers at a checkpoint in Vavunathivu on November 30, 2018.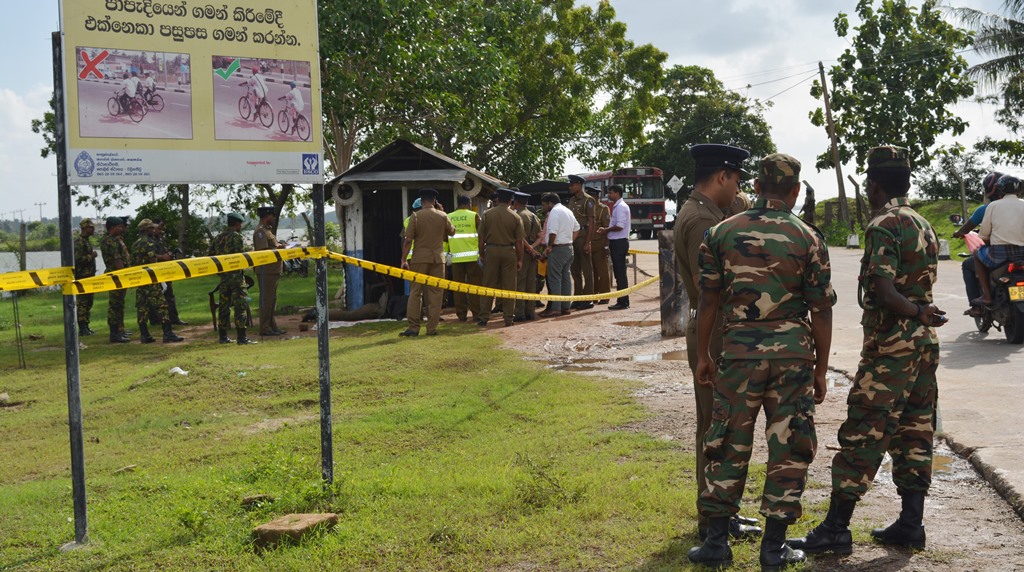 Vavunathivu checkpoint. November 30, 2018
Amidst raids carried out in the wake of the Easter Sunday bombings, a gun found in a house in Kalmunai is believed to be a missing police rifle from the killings. Two former LTTE cadres, arrested by authorities after the shooting, remain in detention without charge over the incident, amid much criticism by Tamil politicians who argued they were innocent.
Read more: Sri Lankan police investigate Islamist extremist links to 2018 checkpoint shooting
Senaratne, Sri Lanka's health minister, went on to claim that at least 26 members of the recently banned NTJ, who are being blamed for the Easter Sunday attacks, were being paid by Sri Lankan intelligence and linked to Gotabaya Rajapaksa. The former defence secretary last week announced that he would be running for president in elections scheduled to take place later this year.
The minister went on to name 'Abdul Razik' as one of the NTJ members who was on the intelligence payroll.
His claims come after Sri Lankan police said they were searching for a former soldier Bathrudeen Mohammed Mohideen, or 'Army Mohideen', who is suspected to have trained the bombers.
It has emerged this week that though Sri Lanka's military and political leaders were repeatedly given details information about the attacks, including potential targets, no action was taken.
See a clip of the press conference below.
https://www.tamilguardian.com/content/ntj-paid-sri-lankan-intelligence-soldiers-organised-police-murder-cabinet-spokesperson
---