Hope takes root with home gardens in parched land
By Yomal Senerath-YapaView(s): 487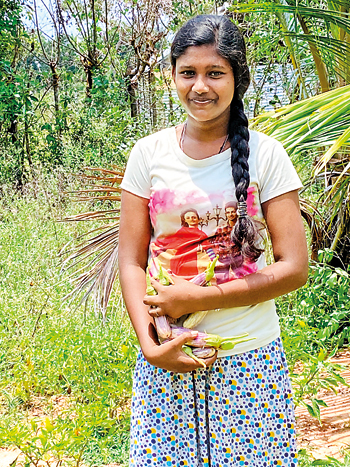 Growing their own: Brinjals from the garden
Even with a windowsill garden, you can help a poor village in the far North.
Ponnaveli in Poonakary is part of the traditional Vanni, historically a wilderness, baked and dry for the most part of the year and, after the difficult war years, sustained solely by the men who earn their livelihood by fishing.
Appe Lanka, spearheaded by the indefatigable Shaan Corea, has been helping the people of this parched land located on the lower half of the 'dragon's mouth' formed by the Jaffna peninsula. At one of Appe Lanka's regular 'needs-based assessment' meetings in Ponnaveli, it was that the women of the area voiced one of their major woes.
When the men cannot go fishing in the season when seas are rough, they bemoaned, families go hungry. They have little savings to help them through those lean monsoon months- making for a precarious state of living.
This plea inspired Shaan to come up with a simple but sustainable initiative, which they named Plant. Grow. Eat- Edible Gardens.
The first step to establishing 'edible' home gardens was to provide novice farmers with the bare necessities. They had no tools, compost, fertilizer or seeds. Water was a priceless commodity.
Appe Lanka set up three water purifying systems in the three villages of Ponnaveli, thus supplying 2000 people, 495 families, with the precious liquid for drinking, cooking and the home gardens.
Fifty home gardens were earmarked, 27 of them to grow in the first stage. A set of garden tools, fertilizer, compost and seeds were distributed to each family while they were guided in preparing the ground and fertilizing.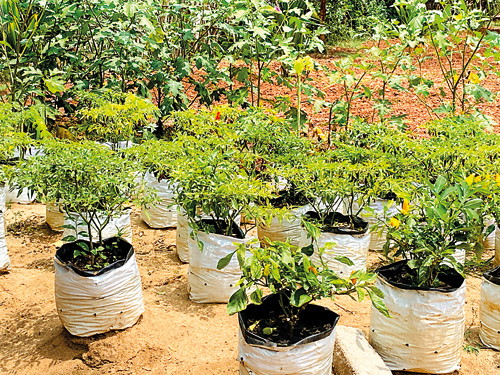 Ponnaveli produce: Thriving with a little support
Today, Ponnaveli glows verdant with bristling patches of leafy home gardens where brinjal, tomato, chilli, karavila (bitter gourd), ladies fingers (bandakka), spinach, dambala, me, pathola, ash plantain, cowpea, beetroot, carrot and cabbage thrive robustly.
In a recent visit to the hamlets, Shaan was overwhelmed by the brisk transformation.
The home gardens do more than supplementing a family's diet of rice and fish. The excess produce is sold in the market or shared with neighbours,  while the family bonds by sharing the labour in the garden, and everyone is ensured a healthy diet.
As Shaan visited families, she was met with grateful smiles. A young woman who no longer worried about her son's education because the produce brought extra money; a fisherman overjoyed that he is no longer the sole breadwinner and discovering a passion for gardening… At one house a girl was plucking robust brinjals for lunch while her parents were watering plants and raking dry leaves.
Invited over for lunch at a village home, Shaan says the table was replete with homegrown produce. Shaan was told they made 500 Rupees a day from excess crops.
Another family made Rs. 7000 a month from the excess crop, ensuring they no longer needed to worry about their son's schooling. The importance of a balanced diet had been conveyed to them through workshops, so no family sells their entire produce.
Shaan invites Colombo's gardeners, to join Appe Lanka in their effort to help buy tools, coconut fibre, fertilizer and seeds for Ponnaveli farmers.
Anyone interested could call Shaan Corea, CEO of Appe Lanka,
on 0772872056. 
https://www.sundaytimes.lk/210718/plus/hope-takes-root-with-home-gardens-in-parched-land-449291.html