Once dry-parched land in Batticaloa is now home to a state-of-the art university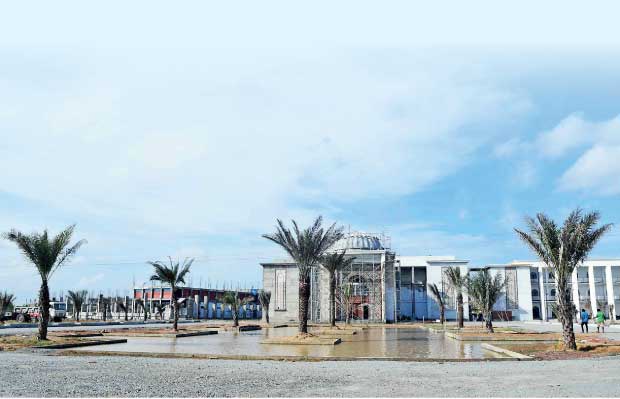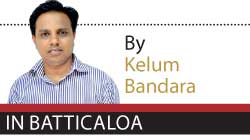 A few years ago, it was a landmass, located near the border of Polonnaruwa district in Batticaloa only and left for herds of cattle to graze. If not for such livestock in their hundreds and thousands sniffing the ground fodder in this parched terrain, the land did not serve any productive purpose. In stark contrast with the past, the land, located on the Batticaloa-Polonnaruwa Road in the area called 'Poonanai', is abuzz with construction activities today as one of Sri Lanka's largest non-State universities is emerging on it with pomp and grandeur.
The land, belonging to the Mahaweli Development Authority, was allocated during the former rule 
This is a  brainchild of State Minister M. L. A. M. Hizbullah 
University authorities would plan interreligious and cultural programmes to foster harmony
The land, belonging to the Mahaweli Development Authority, was allocated during the former rule for the construction of this non-State university, a brainchild of State Minister M. L. A. M. Hizbullah, who represents the district as an elected member. It remained unused for decades on end, mainly due to the area's increased vulnerability to LTTE terrorism, when the outfit was active prior to 2009.
Today, in the post-war context, the land bears mansion-like buildings, constructed according to Islamic Architecture with minarets that proudly speaks of the university's cultural identity. The university land, as visible for anyone passing by, is dotted with date palms giving a novel beauty to its landscape. As such, the university will claim pretension to a university in a middle-eastern country glorifying Mogul Architecture.
Architectural grandeur is further collaborated with modern landscaping that includes the construction of a large pond nurtured by water pumped from a nearby irrigation canal through underground tube lines in the backyard of the university's main building. Coconut palms, planted around the pond, are now in their tender period. Once grown up, these trees will stand side by side with reading benches for undergraduates to pursue their studies in an atmosphere with air cooled by the pond waters in this otherwise arid land.
Facing the Batticaloa-Polonnaruwa main road is the university's main administration block fronted by a moat lined with date palms.
University with modern facilities 
The administration block houses the room for the university's chairman, the board room, the director's office etc. All are constructed in conformity with the standards of any reputed university in the world.
"This will be a fully pledged state-of-the-art university approved by the University Grants Commission (UGC) of Sri Lanka. Selection of students and the conduct of undergraduate courses will be done according to the rules and guidelines stipulated by the UGC," Project Officer M. I. A. Rauff Hassan told Daily Mirror.
It is a non-state university offering courses in different disciplines in collaboration with universities both in Sri Lanka and abroad.
Nearing completion is the construction of clouds smart classrooms, IT labs and two auditoriums. One auditorium can house 700 students and the other 300. The library which is under construction will have facilities for reading and reference. Once constructed, undergraduates will have the facilities for reading in different postures as they like in this university, according to the Project Officer.
"One can read while lying on a bed even," Mr Hassan said.
Hizbullah realises his dream 
Commenting on the circumstances that led to the establishment of this university, Mr Hizbullah said, "Along with former President Mahinda Rajapaksa, I went for the founding ceremony of NSBM in the Maharagama area. MP Dulles Allhapperuma was the Minister. He is a good friend of mine. He invited me and I asked for one such university for my area. The former President declined to do so citing financial constraints. Instead, he asked me to start one on my own. He said he would arrange a loan facility for the project. For NSBM and SAITM, the government approved huge loans through the Bank of Ceylon.
Yet, I thought I have constraints in raising a loan to be paid with interests because it is against Islam. Bank loans are Haram according to Islam. Interest is Haram. So, I started work with a different arrangement for funding. The then President gave me 45 acres of Mahaweli land on lease. I secured money in the form of a loan from the Islamic Development Bank. Also, I received some funding assistance from Saudi Arabia and Qatar. There are some NGOs operating in these countries. These are interest- free loans. After five years, we will pay back. There is no interest accrued. Instead, we will pay some charges."
Funding assistance from Saudi Arabia, Qatar 
In his manner, Mr Hizbullah secured the US $ 30 million. To supplement this amount, he is now planning to reach out to Bahrain and Kuwait for financial assistance.
"We have obtained the Central Bank approval as well. The money will be credited to our account in the Bank of Ceylon. We will make payments to our contractors through it. We submit our reports to the Inland Revenue Department," he said.
What kind of a university is this?
It is the same as any other university in Sri Lanka. There is no difference between the traditional university system of the country. It is not a foreign university. It is a non-state university functioning under the Higher Education Ministry and the UGC. They approve the curricula and all.
The university will have six faculties to offer eight courses- civil engineering, mechanical engineering, electrical and electronic engineering, quantity survey, IT, Law, Agriculture Technology, Tourism and Hospitality Management,
"We prepared the syllabi and submitted to the Ministry for approval. Now, three professors are to be appointed to scrutinize the curriculum of each course. They will go through everything," he said.
Prof. Anwer Ismail, the former Vice-Chancellor of the Southeastern University, is to be the Vice Chancellor.
"Academics from all the three main communities will be appointed as the Heads of Department. We expect subject approval by April, this year. Only the UGC will make recruitment of students for us. We cannot do it on our own. It will be done under the supervision of our university. We have a board of directors. We have seven members. I will be the Chairman," he said.
He said this would be a non-profitable organization. For engineering, a student would have to pay only Rs.150,000 for a semester.    "A student from any community can join if he can afford the course fee," he said.   Asked whether this would be an Islamic university, he said, "There is no such plan at all."   However, he said basic Islam would be taught to Muslim students during their first year of study. "We will teach them how to pray, the importance of harmony among different ethnic groups," he said.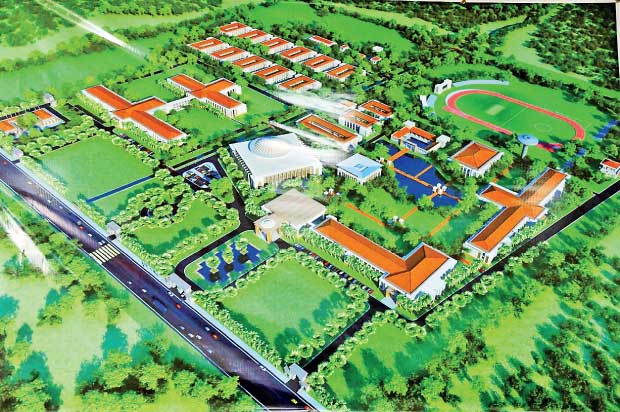 Inter-communal harmony to be fostered 
In addition, he said the university authorities would plan interreligious and cultural programmes to foster harmony among students from different ethnicities.
"We celebrate Vesak, Christmas, Thai Pongal and all. In fact, we will even conduct an international Buddhist Conference," he said.
Modern courses to be offered later
In the future, there are plans laid out for the expansion of academic activities. Mr Hizbullah has already signed agreements with universities in the United Kingdom, Singapore, Malaysia and Japan to introduce new courses to produce employable graduates.
One such course is Robotics and Engineering to be conducted in collaboration with the National University of Japan. Another is a course on Financial Investigation and Frauds, a discipline which is not available in Sri Lanka currently.
http://www.dailymirror.lk/144165/Once-dry-parched-land-in-Batticaloa-is-now-home-to-a-state-of-the-art-university
---