Whole country totally corrupt
2017-09-01
How the open market economy corrupted everything-including political parties, the State and all professions
Within open market economy, Governments keep relaxing labour laws as incentives for investor promotion, who in turn take care of political parties and professionals
The State controlled economy was not for regeneration of private capital thus denying the development of "class conscious" capitalists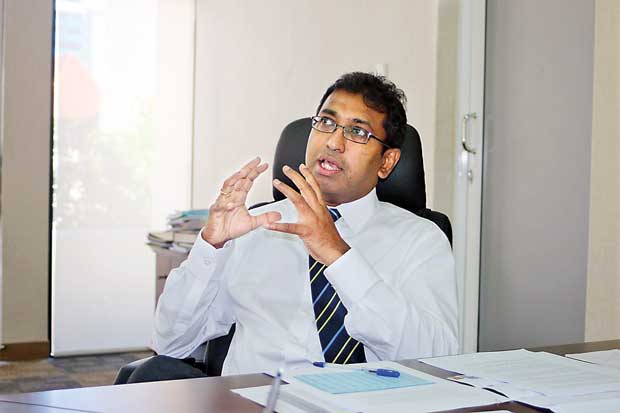 Recently in a live TV panel discussion, Deputy Minister of Policy Planning and Economic Development Dr. Harsha de Silva said this country as a whole is totally corrupt.
He complained that corruption was everything and everywhere and it was being only talked of superficially.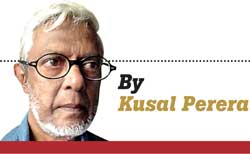 With corruption, he said politics had become so nauseating, he was disgusted and wouldn't mind leaving politics.
What he did not say is that it is this open market economy that has corrupted everything including political parties, the State and all professions.
It is leaders of these corrupt political parties, the State and professionals, who design all plans and programmes and have them implemented in this open market economy to improve private sector profits.
Within this open market economy, Governments keep relaxing labour laws as incentives for investor promotion, who in turn take care of political parties and professionals.
It is for that sole purpose the Ministry of Development Strategies and International Trade (MoDS&IT) has stepped completely outside its responsibility of socio economic development and international trade to have the USAID with a heavily funded project to "Reform Labour Law".
The project with USAID would go on till 2020. What have USAID and the MoDS&IT to do with our labour laws? They have absolutely nothing to do with labour laws in Sri Lanka and they shouldn't have.
Everything related to private sector labour in Sri Lanka from policy to law and their enforcement is the total responsibility of the Labour Department under the Ministry of Labour. No other ministry therefore is mandated to intervene in any way in labour related issues. The Labour Department and the ministry works with the ILO for want of expertise as they decide.
Thus this intervention by the MoDS&IT with the USAID is an arrogant, unwanted intervention that needs to be paid serious attention to.
This deal between the USAID and the MoDS&IT spells out the fundamentals of the politico economic programme of this Government under PM Wickremesinghe. The whole approach of this Government which knows nothing else is plain open market economics with maximum "incentives" offered for Foreign Direct Investors (FDI). There is no development planning to decide where FDI should be channelled for the advantage of the people.
It is simply said FDI is necessary to establish factories for export manufacture. Deciding what is manufactured remains the privilege of the investor and not the country.
"Incentives" in this open market economy mean nothing other than "means for increased profits". This is what the Wickremesinghe Government's "development" is all about.  Thus the proposed labour law reforms attempted by the USAID and the MoDS&IT has to be discussed within the larger canvas of Neo Liberal Economics in a country that has failed to establish an inclusive, secular and a pluralistic State for almost 70 years.
With the popular argument the post-independent mixed economy failed to develop the country, the shift to an open market economy was said to have lifted Sri Lanka to the status of a "developing country". Yet for the last 40 years this country still remains a "developing country".
The open market economy was introduced in a country that was ethnically polarising and moving into a bloody conflict. Within such polarising that created a dominant Sinhala psyche set for a protracted war, the State was gradually groomed into a Sinhala State. This had its impact in the economy, during the first thirty years after independence and thereafter in an accelerated form.
The State controlled economy was not for regeneration of private capital thus denying the development of "class conscious" capitalists. They remained a trader-dealer community. They behaved more as an ethnically conscious State patronised community that played politics with the Sinhala political leadership. It was this deformed and stunted business that led to the emergence of crony capitalism in an open market economy.
Meanwhile from the time of Colonial rule, organised labour that had the ability to pressure Governments, managed to consolidate their rights and privileges through numerous Ordinances and Acts. The 'Labour Department' itself was established under the 'Indian Immigrant Labour Ordinance No. 01 of 1923'.
It was established initially to oversee welfare of Indian labour brought for plantation work. Compensation for workers who meet with accidents while on duty was accepted as important and made into law with the Workmen's Compensation Ordinance No.19 of 1934. Trade unions were accepted and recognised legally with the State Council in November 1935 adopting the Trade Union Ordinance No.14. In 1939 the Maternity Benefits Ordinance No.32 was made into law by the State Council. After independence, the Industrial Dispute Act No.43 was adopted in 1950 by parliament. In 1954 the Shop and Office Employees' Act No.19 was passed. With a strong politically organised working class the Bandaranaike Government was made to provide retirement benefit for the first time to the private sector employees with the adoption of the Employees' Provident Fund Act No.15 of 1958.
Most such Acts were the result of trade union agitations and so was the signing and ratifying of ILO Conventions by Sri Lanka. From 1950 to 2016, Sri Lanka has ratified 43 ILO Conventions and 32 of them are in force. That apart, the present Yahapalana Government re-applied for lost EU GSP Plus and regained same on condition that it would work towards improving Good Governance, democratic and human rights, labour rights and improve environment as well.
Sri Lanka's problem with "development was not labour laws and labour rights. They were essential for development as a democratic country-necessary to have a satisfied labour force that ensures industrial peace and optimum production.
The whole concept of "Collective bargaining" and of "Collective Agreements" first signed in old Ceylon in 1928 is about achieving industrial peace with a satisfied workforce. In open market economies businessmen demand free rides for bigger and bigger profits. For which they grease every governing structure.
It is for that this Government wants USAID to help dismantle the labour law regime by way of "reforms".  USAID has identified areas to be reformed for the benefit of employers. They have argued the employer should have legal provision to dismiss a worker overnight at a low cost. What is not said is that, even now any employment can be kept under probation for almost three years with no right given to the worker to contest such a long probationary period. During this long probationary period employment can be terminated without cause. Formula for compensation was also what employers worked out and have agreed for.
Another that is being highlighted is the calendar with a list of 26 public holidays per year including Poya holidays. Not counting these holidays employees are entitled for seven days of sick leave and seven days of casual leave. Also three months maternity leave for female workers is noted with concern. What is basically said is, workers don't need to have so many holidays, for that makes the employer pay extra for extra work during holidays. The idea of "part time" employment is also on the cards, argued as an opportunity for employees to do "double jobs". What is not said is that most employees do odd jobs even now, as wages for full employment cannot keep them going for a full month.
The USAID has come in big with this Government.
The Industries and Commerce Ministry too has solicited their support to streamline Lak Sathosa and improve employee efficiency. This Government is banking on USAID and not on ILO expertise for labour issues.
Most trade unions in the National Labour Advisory Committee (NLAC) walked out of the meeting convened for USAID representatives to present their scheme in reforming labour law with the Free Trade Zones & General Services Employees' Union taking a principle stand against USAID and the MoDS&IT intervening in labour law reforms.
The Government and the Labour Ministry saved their faces with politically affiliated trade unions including that of the JVP (US Imperialism is irrelevant, when Government positions are available) opted to stay in the Working Committee on Labour Law Reforms.
This Yahapalana Government will thus push its programme of dismantling labour laws through reforms proposed by the USAID.
The final draft would thereafter be endorsed by the UNP, SLFP, and JVP trade unions with the CWC also in the Working Group.
This leads to total confusion on the part of the Wickremesinghe Government. This Government cannot devalue labour laws in any way with the Constitution guaranteeing freedom of association and the ILO Conventions 87 and 98 in force. Violations of these Core ILO Conventions would make the Government liable for punitive judicial action in many fora both local and international. Added is the fact the Government is already bound by all conditions that come with EU GSP Plus benefits.
They include Core ILO Conventions for the entire labour force and is not limited to companies that manufacture for the EU market as the Labour Ministry now tries to define EU GSP "Plus" conditions. An EU "monitoring" team is due next Saturday, 09 September that will compel the Government to lay down its framework for proposed labour law reforms.
For the EU, the "reforms" will have to upgrade not degrade existing labour laws. For the Government it's the reverse that is wanted in this wholly corrupt free market economy.
That is the reason for all the "nauseating corruption" Deputy Minister Harsha de Silva said he was disgusted about.